What the devil doesn't want you to know is that he exists!
Jesus said this about Satan: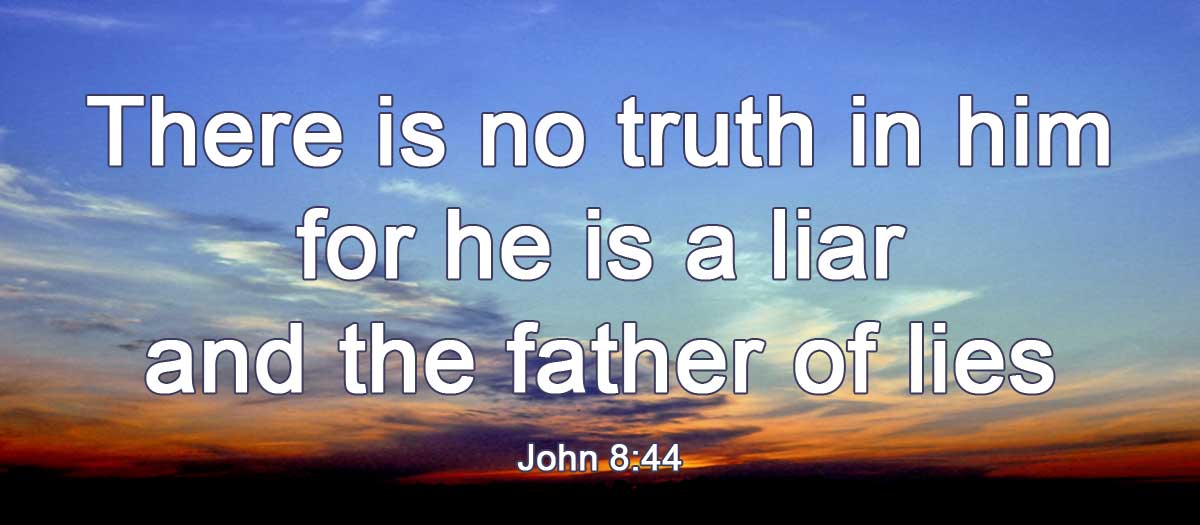 Here is the entire Scripture passage:
…He was a murderer from the beginning, and has nothing to do with the truth, because there is no truth in him. When he lies, he speaks according to his own nature, for he is a liar and the father of lies.(John 8:44)
The Devil Has A Crippling Weakness:
What the devil doesn't want you to know is this:
What kryptonite is to Superman…

What light is to cockroaches…

What the Cross is to Dracula…

God's spoken Word is to the devil!
Satan and his legions of demons are powerless and flee in terror when confronted by the supernatural power of the Truth of God's Word.
Here's why this is important to you:
Because the devil is behind most of the problems you are having.
The devil doesn't want you to know this:
God Promises: You Can Live Free From Fear, Panic, Anxiety, Nightmares, Worry, and more!
God has put His power into His Word! You and I can access that power by speaking God's Word against the devil.
For the word of the cross is foolishness to those who are perishing, but to us who are being saved, it is the power of God. (1 Corinthians 1:18)
God has not given us a spirit of fear, but of POWER and of love and of a sound mind." (2 Timothy 1:7)
20Now to Him who is able to do exceedingly abundantly above all that we can ask or think, according to the POWER that works in us, 21 to Him be glory in the church by Christ Jesus to all generations, forever and ever. Amen" (Ephesians 3:20~21 NKJV)
For I am not ashamed of the Gospel, for it is the power of God for salvation to everyone who believes" (Romans 1:16)
4 for the weapons of our warfare are not worldly, but have divine power to destroy strongholds. 5 We destroy arguments and every proud obstacle raised up against the knowledge of God, and take every thought captive to obey Christ. (2 Corinthians 10:4~5)
The devil needs God's permission before he can do anything to you. But the devil has figured out how to "game the system" to get God's permission. Very legalistic; has to do with you and I having a free will.
In Biblical times, mighty men of war relied upon their swords to slay their enemies. That's why God inspired Paul to use a "sword" as a metaphor for a powerful weapon:
And take … the sword of the Spirit, which is the word of God (Ephesians 6:17)
So, what you need right now is some practical, focused information about three things:
Here Are Seven Strategies The Devil Uses:
1 STEALTH: As stated above, what the devil doesn't want you to know is that he exists. If God is the great "I AM", Satan is the great "I AM NOT"! But Jesus, Paul, Peter and all the New Testament writers knew that demons exist, and they strongly warned us to be on guard and not fall into the devil's traps.
2 IGNORANCE: Whether you know demons exist or not, what the devil doesn't want you to know about is the incredible power of God's Word and the awesome benefits of doing God's will in things like Scripture memory.
3 ANESTHESIA: If somehow you throw off your ignorance of God's Word and begin to read it, the Devil wants to keep you "anesthetized" such that you read the words — but they might as well be written in a foreign language. They have no meaning to you. The Gospel is veiled, and you are in danger of perishing. (See Romans 11:8 and 2 Corinthians 4:3~4 )
4 UNBELIEF: If they fail to keep the truth from you, their next strategy is to keep you from taking these truths seriously. What the devil doesn't want you to know here is they plant thoughts of unbelief in your mind. They try to get you to think that doing things like Scripture memory are really not important…other things are much more important. They try to get you to doubt that God exists or doubt the accuracy of the Bible.
5 DISTRACTION: If you are still determined to believe and press on, what the devil doesn't want you to know here is that they will work to distract you. You'll feel hungry; you'll feel tired; you'll think about your grocery list or your to-do list; someone will call; you'll feel inclined to spend hours surfing the internet, etc.
6 DOUBT: Another thing very high on the list of things the Devil doesn't want you to know is that he will try to make you doubt such things as the very authenticity of the Bible. This despite that fact that Proverbs 30:5 says, "Every Word of God proves true…". He wants you to doubt that Jesus said, "It is easier for heaven and earth to pass away than for one tittle (small grammatical mark) of the law (the Bible) to fail." (Luke 16:17). The devil even wants you to doubt that you could ever do such an audacious thing as to memorize even one verse of Scripture!
7 OUTRIGHT LIES: See John 8:44 (Scripture photo at the top.) What the devil doesn't want you to know is that EVERYTHING he says is a lie. Oh, he'll tell half-truths, mixing a little bit if truth with a lot of untruth. But those statements are like a pan of chocolate brownies… with dog poop baked into them! You would NEVER eat that if you knew what was in it! Neither should you "eat" the words of the Devil.
More About The Strategy Of Satan:
Satan goes after your mind by putting his lies into your thoughts. His purpose is to keep you ignorant of God's will for you. But once you begin to take hold of the principles I've shown you here, you'll have a great defense against him.
Satan goes after your body by inflicting suffering upon you. His purpose is to get you to be impatient with God's will for you. But as God said to Paul in 2 Corinthians 12: "My Grace is sufficient for you…".
Satan attacks your will by attempting to sow pride into your life, so as to make you independent of God's will. But when you filter your actions and even your thoughts by asking in your heart, "Would this thought (action) grieve the Holy Spirit?", you are in effect making the Holy Spirit the gatekeeper of your mind.
Seven Things God
DOES

Want You To Know:
The devil is real. He hates you because you love Jesus and Jesus loves you. By taking you down, the devil thinks he can hurt Jesus.
The devil is behind most of the fear, worry, doubt, guilt, etc. in your life.
Satan's purpose is remarkably simple: he goes to great lengths with empty promises and lies to get you to choose to live independently from God's will.
God is infinitely more powerful than Satan and all His demons combined. So there is absolutely no reason for you and I to fear them.
God will help those who walk in obedience to Him, and who put their complete trust in Him by turning to Him in faith.
God does not promise a problem-free life. Actually, He uses your problems to help you grow spiritually.
Always remember this: what the devil doesn't want you to know — but God DOES want you to know — is just how much God's heart burns with love for YOU!
Why This Is Important:
It's important that you realize this:
You are the "rope" in a Spiritual tug-of-war!
On one end, Satan and his demons are pulling you toward Hell, using everything in their bag of tricks to keep you from walking in obedience to God.
On the other end, God is working for your good to draw you to Himself, while at the same time respecting your free will.
The war between God and Satan is for YOUR SOUL!
The demons, as they always do, are exploiting the fact that God has given you a free will. They stop at nothing to disrupt, discourage, distract, and deflect you away from allowing God to be the Lord of your life.
The Scripture below is an example of what the devil does: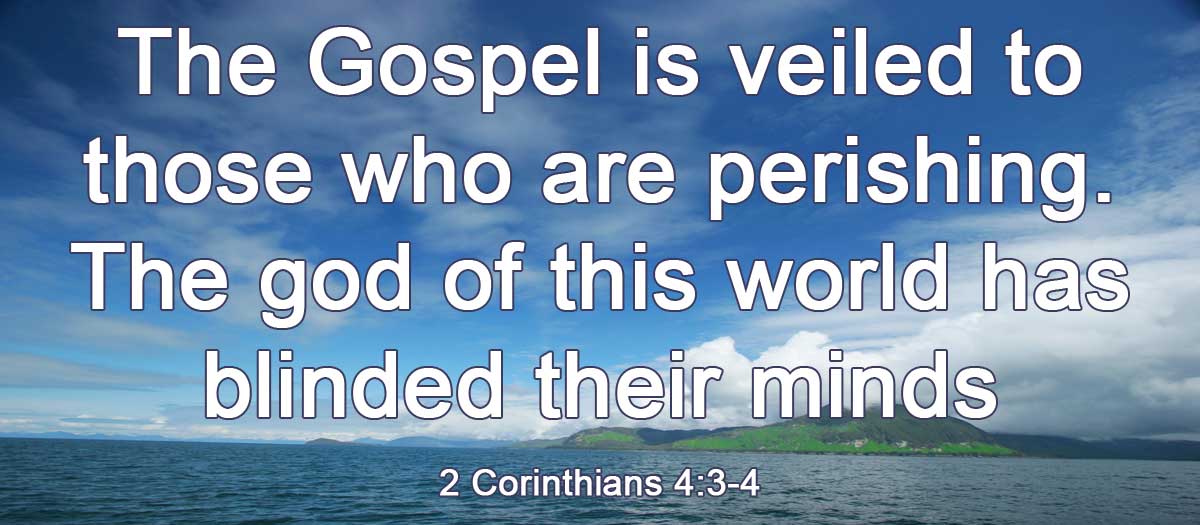 Here is the entire Scripture passage:
3 And even if our gospel is veiled, it is veiled only to those who are perishing. 4 In their case the god of this world has blinded the minds of the unbelievers, to keep them from seeing the light of the gospel of the glory of Christ, who is the likeness of God. (2 Corinthians 4:3~4 rsv)
EXPLANATION: When people read the Bible and it seems to make no sense to them, that's because of the devil. Somehow, he has the ability to "veil" their minds from the truth of what God wants everyone to know.
Does The Scripture Above Alarm You?
It alarms me, because of all the people I know who are not ready yet to step into eternity. Some think they are ready—but they may not be. Some don't seem to care. Many have been beaten down by religion, and want nothing to do with anything associated with churches.
The Devil loves that! He so wants to keep you from understanding the Word of God.
Here's one of the Scriptures where Jesus described what the Devil does:
Note the underlined text:
18 Hear then the parable of the sower: 19 When anyone hears the word of the kingdom (the Scripture read from the Bible) and doesn't understand it, the evil one comes and snatches away what has been sown in his heart. (Matthew 13:18~19)
Take Action! Here's How To Arm Yourself:
Decide NOW to walk in obedience to God. Begin NOW to equip yourself for spiritual warfare first by reading the practical, beneficial information I'm presenting here, and by equipping yourself for spiritual warfare by beginning to put God's Word into your memory.
How To Defend Yourself
The articles linked below are filled with many more things that are very prominent on the list: "What The Devil doesn't Want You To Know"
A Real-Life Example Of How Effective The Spoken Word Of God Is:
One of the reasons God allows troubles in our lives is so that we can show by way of our real-life examples how He works in the life of a believer. The Scripture below shows how God wants each of us to be an encouragement and a comfort to others:
3 Blessed be the God and Father of our Lord Jesus Christ, the Father of mercies and God of all comfort, 4 who comforts us in all our affliction, so that we may be able to comfort those who are in any affliction, with the comfort with which we ourselves are comforted by God. (2 Corinthians 1:3~4)
Here is my own story of how God allowed me to be tested — twice. At first, I knew nothing about wisdom from the Bible. But the second time, I was able to stand against the devil. You'll see how God has called me to "comfort others" just as He has comforted me:
Warning! Beware Of This Trap:
The Devil is likely putting thoughts into your mind right now, telling you to put off doing the things I'm urging you to do.
Or he's telling you it's all nonsense, or that it's too much to read.
The devil will try to confuse you, or even to doubt the Truth of God's Word!!
Don't listen to that voice.
Those thoughts are all lies from the devil!
That's how he manipulates us.
At this moment, the most dangerous word in your vocabulary is "tomorrow" (as in, "I'll decide about that… tomorrow".)
What I've done here is the equivalent of having a personal trainer show you all the types of training equipment and how to use them. But the trainer cannot do the workout for you.
Now you must decide: do you want to keep all your fears, anxieties, panic attacks, and nightmares?
Now it's up to you.
Victory Over The Devil Is A Partnership With God!
Here is a short quote from another one of my articles, entitled, " How To Defeat The Devil, As Demonstrated By Jesus . It makes the point that we must be in partnership with God in order to avail ourselves of His promises.
In many of our interactions with God, there is a part that we can do, and there is a part that only God can do. And until we do the part that we can do, God will not do the part that only He can do.
The book of James helps us to understand God's "how to defeat the devil" strategy:
Submit yourselves therefore to God. Resist the devil, and he will flee from you. (James 4:7)
There are two separate thoughts here:
Submit to God. Obey Him. That's the part you and I must do first.
Resist the devil. As God's obedient disciple, His power operates through you.
Sadly, most people ignore the first part, and try to figure out how to "resist the devil" with their own strength. But they can't do it.
---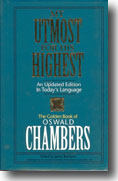 Now I want to share with you an excerpt from a devotional I've been re-reading for years. The author, Oswald Chambers, has a way of stripping away our pretenses to reveal our true condition that always opens my eyes to a better understanding of Scripture.
This excerpt is from his classic book, "My Utmost For His Highest". I highly recommend that you get a copy and read a page every day. Here's one of the links to Amazon.com where you can buy a copy.
The Authority Of Reality
"Draw near to God, and he will draw near to you." (James 4:8)
It is essential to give people a chance of acting on the truth of God. The responsibility must be left with the individual, you cannot act for him, it must be his own deliberate act, but the evangelical message ought always to lead a man to act. The paralysis of refusing to act leaves a man exactly where he was before; when once he acts, he is never the same.
(From the devotional reading for November 4.)
Notice the phrases he used:
give people a chance of acting on the truth of God…
responsibility must be left with the individual…
message ought always to lead a man to act…
The word "paralysis" describes the condition many are in:
paralysis of refusing to act…
I am living proof that this next phrase is true:
when once he acts, he is never the same
I've quoted a preacher from long ago to help make this point:
"Begin learning the Bible so you can do what it says. Along the way, it will transform your life!"
---
There Is No Neutral Ground Here!
There are two spiritual kingdoms: Heaven and Hell.
Contrary to the popular culture, there is no third kingdom of "just me".
With every thought, with every spoken word, and with every action (or sometimes inaction) we serve either Heaven or Hell.
Jesus said:
Whoever is not with Me is against Me…" (Matthew 12:30, Luke 11:23)
Everything Is A Test.
God has put before you a multiple-choice test. But notice this: He loves you so much that He's also given you the correct answer:
I call heaven and earth to witness against you today, that I have set before you life and death, blessing and curse. Therefore choose life, that you and your offspring may live. (Deuteronomy 30:19)
So Now, You Must Decide About Two Things:
BELIEF: Do you believe the things you've read here? Everything is based on the Truth of God's Word. And I don't mean just mental assent to a set of facts. I mean, "Is your belief a deeply-held conviction that you would die for?"
IMPORTANCE: Is obeying God by beginning to put His Word into your mind and heart important to you? If it's important to you, you'll do it. If it's not important to you, you won't do it.
Here's Your Part:
Just as nobody else can go to the gym and do your workout for you;
Just as nobody else can practice the piano for you;
In the same way, nobody else can undergo the discipline of learning to apply principles from the Bible for you.
Only you can make the decision to obey God and begin equipping yourself to have victory over the devil.
Getting Bible verses into you is not as hard or tedious as you might think either. Read my article: Memorize Bible Verses! Here's How. Here's what I do: I read each of the Scriptures I want to memorize ONCE EACH DAY!
Would you like some encouragement to get you motivated and to help you get started? Read my article: Persevere; Here's What Will Happen. You'll see how at first, it will seem like a discipline. But — and here's the part you cannot see at first — you will begin to experience a desire for God's Word. You'll look forward to it. Keep on, and it becomes a DELIGHT! But as I said, you will see this only if you persevere.
Don't Be A "Jellyfish Christian"!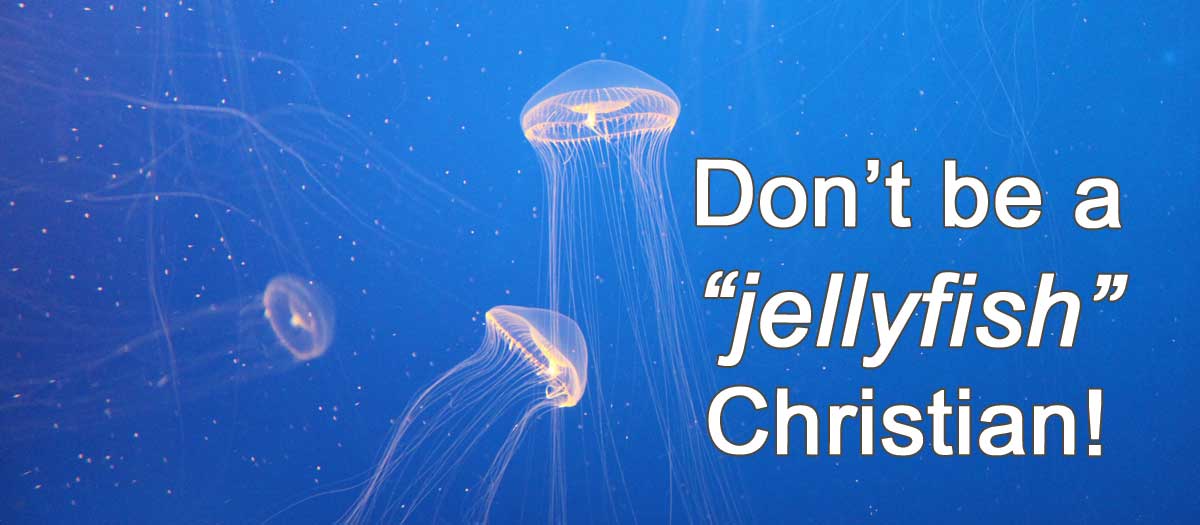 Do you know what a jellyfish is like? In outward appearance, there is a certain beauty to them. But look at what they're really like, and what they do:
They're flimsy.
They're weak.
They're spineless; they have no backbone; they can't stand up for anything.
They just drift along with the prevailing currents. You might say they "go with the flow".
With their tentacles, they sting with venom whatever gets in their way.
With those same tentacles, they reach out and grab what they want.
You cannot negotiate or compromise with a jellyfish. They are creatures of instinct.
There are many people who identify themselves as Christians, but are a lot like that jellyfish.
"But…How Can We Know Who They Are?"
Note the underlined text:
3 "But…How Can We Know Who They Are?"
Here Is The Test:
What is your "instinctive reaction" when adversity strikes?
Do you respond with anger and venomous rage?
OR:
Do you respond by way of a gentle and quiet spirit?
My Friend,THAT IS THE TEST!
BECAUSE:
Where you go first is what you truly believe!
What Does God Want?
He wants us to live in harmony with His Word.
Examples:
Note the underlined text:
12 For we do not wrestle against flesh and blood, but against the rulers, against the authorities, against the cosmic powers over this present darkness, against the spiritual forces of evil in the heavenly places. (Ephesians 6:12)
26 Be angry and do not sin; do not let the sun go down on your anger, 27 and give no opportunity to the devil. (Ephesians 4:26-27)
Note the underlined text:
19 Know this, my beloved brothers: let every person be quick to hear, slow to speak, slow to anger; 20 for the anger of man does not produce the righteousness of God. (James 1:19~20)
quick to hear God's point of view
slow to speak MY point of view
slow to anger — when my point of view differs from God's point of view.
The more Scripture I know, the more God is able to use it to teach me, reprove me, correct me, and train me in regard to my own behavior. So, instead of giving "opportunity to the devil", I'm giving "permission to God"!
Good plan, yes?
Make The Right Decision. Don't Let The Devil Win!
- Jan