God Is always with you, but never more so than during difficult times! And He Longs For You To allow Him to Help You!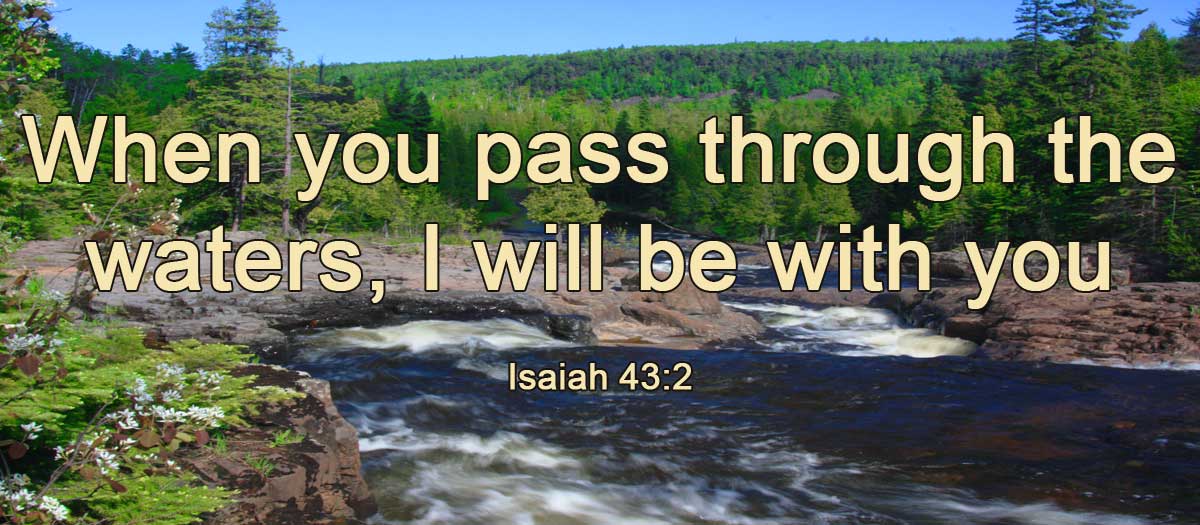 This really happened to me. It's an example of what you can have too.
That true story more than proved to my satisfaction the benefit of Scripture memory. Once I experienced first hand how demons flee from the spoken Word, the Word of God became my ultimate weapon against them. Here is the entire passage, Isaiah 43:1-3 that I had memorized.
Isn't it reassuring to know that God is always with us, even in difficult times?
Throughout the Bible, God promises He will never leave nor forsake us; that He will be with us always. Because we're not in Heaven yet, our journey through life will be marked by a succession of problems and difficulties. That's what those references to "passing through the waters" and "walking through fire" refer to.
And you'll notice: it doesn't say IF troubles will come. It says When you pass through the waters… When you walk through fire. It'll be hard, but you'll make it through. That's a promise from God! That's also the power of God.
Because we have a free will, God will not force His help upon us. Satan and his legions of demons are not so polite. They work at jamming our minds with thoughts calculated to keep us distracted and keep our focus away from God. But knowledge is power. Because we know what Satan and his legions of demons are doing, we also know to turn to God for help!
How To Apply The Principle:
in my article entitled How To Apply Biblical Principles I listed four truths about this same verse that God wants us to know and apply. I urge you to read that article if you haven't already done so. I don't want to be too repetitious, so in this article I want to emphasize the following Truth:
…God Is Always With You!
Because God has given us a free will, He has to, if you will, play by His own rules. In chapters 1 and 2 of the Book of Job we get a glimpse into the Court of Heaven and see an example of how this works. Satan, like a sleazy lawyer, negotiates with God for permission to attack Job. Chapter 1 has sub-headings entitled "Satan Allowed to Test Job" and "Satan Takes Job's Property and Children". Chapter 2 begins with a sub-heading entitled "Satan Attacks Job's Health". In all three episodes, Satan had to get permission from God before he could do anything to Job. But you can bet God was keeping a very watchful eye to make sure Satan didn't go too far. Because we see how God was always with Job, you can be certain that God is always with you, too.
In John 14:21 Jesus offers to "manifest Himself" [to show or demonstrate plainly; to reveal] to "Whoever has My commandments and keeps them…". He shows up in a way that is so powerful. You'll know it's Him! I take that to mean He'll do that for those who are actively engaged in memorizing verses and living according to the principles in them. At least, that's how it happened for me.
The Bible says,
Before I formed you in the womb I knew you…" (Jeremiah 1:5a)
God has known all about you even before He put the first speck of dust into the universe. And when you read a Bible verse that causes you to gasp in astonishment, realize this:
Even as the Holy Spirit was putting His thoughts into the minds of the men who wrote the Bible, He knew that you would one day see that verse and be blessed by it!
That's how much God loves YOU! That's how near to you He really is!
Psalm 139

A Psalm of David

1 O Lord, you have searched me and known me! 2 You know when I sit down and when I rise up; you discern my thoughts from afar. 3 You search out my path and my lying down and are acquainted with all my ways. 4 Even before a word is on my tongue, behold, O Lord, you know it altogether. 5 You hem me in, behind and before, and lay your hand upon me. 6 Such knowledge is too wonderful for me; it is high; I cannot attain it.

7 Where shall I go from your Spirit? Or where shall I flee from your presence? 8 If I ascend to heaven, you are there! If I make my bed in Sheol, you are there! 9 If I take the wings of the morning and dwell in the uttermost parts of the sea, 10 even there your hand shall lead me, and your right hand shall hold me. 11 If I say, "Surely the darkness shall cover me, and the light about me be night," 12 even the darkness is not dark to you; the night is bright as the day, for darkness is as light with you.

13 For You formed my inmost being; You knit me together in my mother's womb. 14 I praise You, for I am fearfully and wonderfully made. Wonderful are Your works; my soul knows it very well. 15 My frame was not hidden from You, when I was being made in secret, intricately woven in the depths of the earth. 16 Your eyes saw my unformed body; All the days ordained for me were written in Your book before one of them came to be.

17 How precious to me are your thoughts, O God! How vast is the sum of them! 18 If I were to count them, they would outnumber the grains of sand. I awake, and I am still with you.

19 Oh that you would slay the wicked, O God! O men of blood, depart from me! 20 They speak against you with malicious intent; your enemies take your name in vain. 21 Do I not hate those who hate you, O Lord? And do I not loathe those who rise up against you? 22 I hate them with complete hatred; I count them my enemies.

23 Search me, O God, and know my heart! Try me and know my thoughts! 24 And see if there be any grievous way in me, and lead me in the way everlasting!
Here's a shorter one.
I've been reading this next verse each day during my early-morning Scripture memory time. Today (06/11/2018) I realized: why not share the verse with others?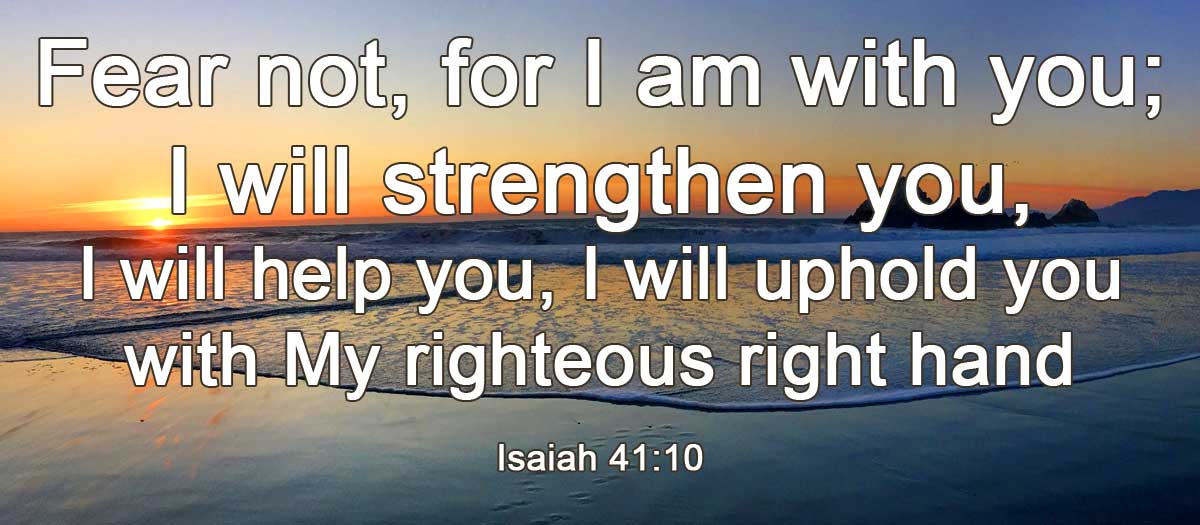 Here is the entire Scripture passage:
Fear not, for I am with you; be not dismayed, for I am your God; I will strengthen you, I will help you, I will uphold you with my righteous right hand. (Isaiah 41:10)
PRAYER: Lord, thank You for reassuring me through your Word that You are holding my hand as I go through the rough stretches of road that I have to travel.Now I see how the weapons of Spiritual warfare work, such as the 'shield of faith' and the 'sword of the Spirit, the Word of God' (Ephesians 6:16-17). The work because they're really You living in me, sustaining me through the turbulence and fires of life."
Do we not indeed serve an awesome God?
- Jan