God transformed me, even when I didn't know I needed transforming. He started while I was still in the Catholic Church.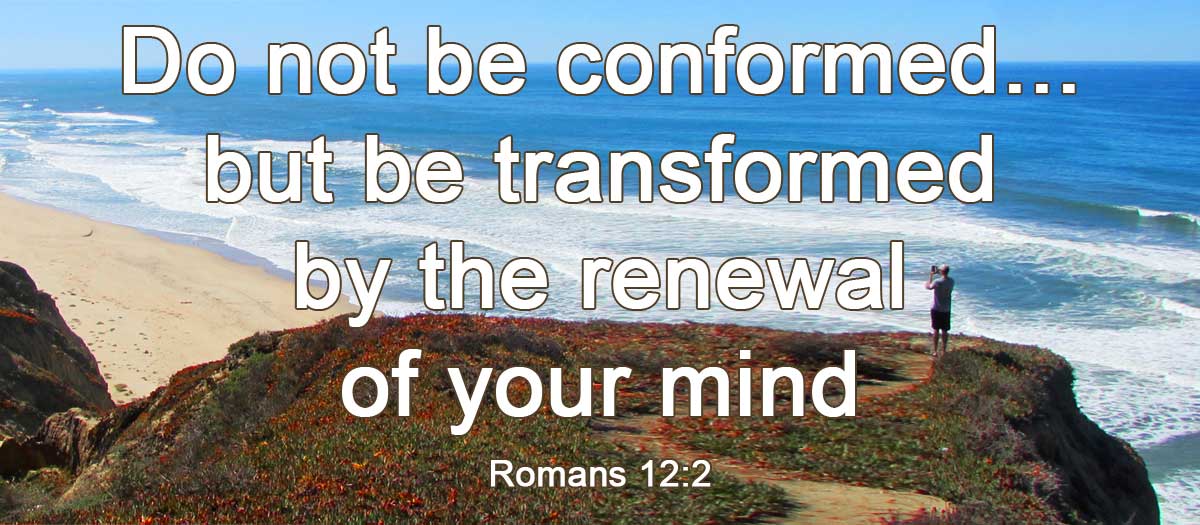 Here is the entire Scripture passage:
2 Do not be conformed to this world, but be transformed by the renewal of your mind, that by testing you may discern what is the will of God, what is good and acceptable and perfect. (Romans 12:2)
God's Word will transform you. But you have to do your part first.
As the verse says, transformation happens by way of the renewal of our minds. And there is nothing finer to put into your mind than thoughts that came from the Mind of God: the Bible.
Toward that end, God transformed me by using two things to get His Word into me. One was a person; the other was a situation.
The Person
In the mid-1980's, Joanne and I attended a three-evening parish retreat. We had heard the speaker, a Catholic priest, at our church the previous Sunday, and were sufficiently impressed to attend the retreat for all three evenings. I remember how, on one of the sessions, he preached from John 3:16: "…God so loved… that He gave His only son…". The priest explained what would have been happening to Jesus — from a medical point of view — while He was being scourged and then nailed to a cross. All I remember (I'm thinking back to the mid 1980's) is that I couldn't imagine how anyone could be so cruel to another human being.
One thing the priest said that really astonished me was this: Jesus would have suffered and died on the cross FOR ME even if I were the only person in the world!
The real take-away for me was the eye-opening understanding that the Bible was filled with principles that I could apply into my own life. WOW!
During the months and years that followed, I began to be intrigued by Bible sermons Joanne listened to as she did her chores. She was listening to a Bible preacher, and his message was very compelling. His teaching began to feed my hunger for the Word of God.
The Situation
I can literally attribute the beginning of my Bible learning to the fact that there is no dishwasher appliance in our kitchen.
Let me explain that.
Every household works out its own division of labor. For reasons that are unimportant, I have the task of standing at the kitchen sink, washing the dishes.
I doubt anyone would dispute the notion that washing dishes by hand day-after-day is tedious, if not downright boring.
That having been said, doing the dishes does have one redeeming feature: it requires no intense thought.
As an antidote to the tedium of dish washing, I scheduled my task so that I could listen to Bible teaching on the radio.
That's when I really began to learn the Bible – with my arms up to my elbows in soapy dish water. I bet I've had thousands of hours of Bible teaching preached into my ears that way.
There is a wonderful life principle here: by doing what I just described, I turned adversity into advantage.
But I did more than just listen while doing the dishes. The Holy Spirit took hold of me in such a wonderful way. I couldn't get enough of God's Word.
Seven Actions By Which God Transformed Me
I chose to listen to Bible teaching regularly – virtually every weekday.
I chose to believe that the literal Words of God were intended for me.
I obtained copies of some of the message series and listened to them.
I took notes on what I was hearing. I even transcribed some of them.
I looked up, read, and marked the relevant Scripture passages in my Bible.
I wrote out many Scriptures on 3 x 5 recipe cards, and memorized them.
I looked for opportunities to discuss and share them with others.
To say it another way: I chose to take God's Word seriously!
I recognized that knowing His Word was so important that I chose to make it my top priority.
That list describes practices I'm doing to this day. Even as I'm writing this, I have a Bible message on the radio in the background. I paused just now, to add another verse to the list I plan to internalize.
About 98 percent of my Bible knowledge first came to me by way of audio messages.
Yet, many of the people I know don't care to listen to audio messages; they all want video.
I don't get it. It's nice to be able to see the speaker, but faith comes from hearing the Word of God.
Or… perhaps it's because all of them have a dishwasher appliance in their kitchen. {:-)
NEXT: The Night I Stood Up To The Devil
- Jan