We all like to think we'll live forever, but God knows how long I will live.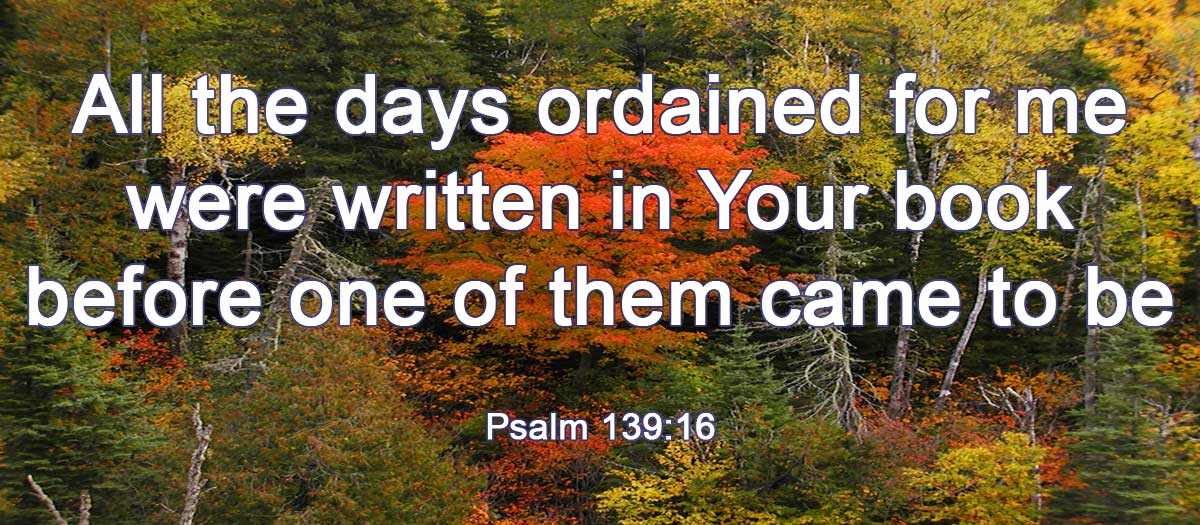 God Knows How Long I Will Live
And He knows the exact span of your life, too.
It's so hard for us, being locked into a temporal existence, to have an eternal perspective on our lives. The past is hazy, and we generally haven't a clue about what lies ahead.
Our feeble attempts to figure out what's coming are less reliable than a weather forecast.
Meanwhile our adversaries, Satan and his demons, stoke the fires of doubt, worry, and fear. They whisper uncertainties into our minds: "What if…??"
Here's the truth: God knows exactly what's going to happen. He's already seen your entire life, down to the smallest detail.
But because He's given you a free will, He won't force His will upon you. You'll have to choose His will by trusting Him and surrendering your life to Him. Once you've done that, you can rest in the calm assurance that""whatever the outcome""God is in complete control.
Paul understood this when he wrote:
If we live, we live to the Lord, and if we die we die to the Lord; so then, whether we live or whether we die, we are the Lord's" (Romans 14:8).
That verse sustained me during a medical situation several years ago. I had to undergo a procedure that was not without risk. There was a fellow with a clipboard telling me things such as: what percentage of patients die during the procedure. (Not very comforting, wouldn't you agree?)
In a very detached and professional way, he read his script, then asked if I understood. Then he asked me to sign my name at the bottom.
But throughout that whole incident (I was awake during the procedure), I clung to the phrase, "whether I live or die, I am the Lord's". Then I began to pray for others.
When it was over, I got an excellent report. The doctor in charge told me that 98% of the patients that undergo this procedure do not get the good report that I got. It would seem that, at least on that day, I was in the top two percent!
[tweetthis]God knows how long I will live. Life is a test, a sorting process. God wants to see who will trust Him enough to…[/tweetthis]
One of my favorite psalms is Psalm 91, because it has so many promises from God in it. Let me show you some of these promises:
Psalm 91

1 He who dwells in the shelter of the Most High will abide in the shadow of the Almighty. 2 I will say to the Lord, "My refuge and my fortress, my God, in whom I trust."

3 For he will deliver you from the snare of the fowler and from the deadly pestilence. 4 He will cover you with his pinions, and under his wings you will find refuge; his faithfulness is a shield and buckler. 5 You will not fear the terror of the night, nor the arrow that flies by day,6 nor the pestilence that stalks in darkness, nor the destruction that wastes at noonday.

7 A thousand may fall at your side, ten thousand at your right hand, but it will not come near you. 8 You will only look with your eyes and see the recompense of the wicked.

9 Because you have made the Lord your dwelling place — the Most High, who is my refuge —10 no evil shall be allowed to befall you, no plague come near your tent.

11 For he will command his angels concerning you to guard you in all your ways. 12 On their hands they will bear you up, lest you strike your foot against a stone. 13 You will tread on the lion and the adder; the young lion and the serpent you will trample underfoot.

14 "Because he holds fast to me in love, I will deliver him; I will protect him, because he knows my name. 15 When he calls to me, I will answer him; When he calls to me, I will answer him; I will rescue him and honor him. 16 With long life I will satisfy him and show him my salvation."

Psalm 91
Look at what's in there:
Verse 2: "he will deliver you from the snare of the fowler…" — protection from the snares of the devil
Verse 5: "You will not fear the terror of the night…" — terror also orchestrated by the devil
Verse 10: "no evil shall be allowed to befall you…" — and again, protection from evil
Verse 14b: "I will deliver him…" — protection from the devil
Verse 14c: "I will protect him…" — also protection from the devil
Verse 15a: "When he calls to me, I will answer him" — reassurance that God hears you
Verse 15b: "I will rescue him and honor him" — He will see you through your trial
Verse 16: "With long life I will satisfy him…" — looking back on life with satisfaction, not regret
Verse 16: "show him my salvation." — a promise of eternal life in heaven!
That psalm reminds me of how blessed I really am! On that day, when I relied on God's Word for strength and courage, His Word sustained me!
But having said that, I have to be honest and admit that, on the day when I kept reciting that phrase, "whether I live or die, I am the Lord's", I didn't even know where it was in the Bible. I had to look it up later.
The fact that I had to look it up made me realize how much I needed to put more of God's Word into my mind. And it's that realization, combined with other experiences, that compels me to keep hammering the "Scripture Memory" nail.
The problem is — and I'll admit I was once like this — we believe that doing things like surrendering our whole life to God, which involves putting aside most of the attractions of this world, and embracing things such as committing Bible verses to memory, will be a major (and thus unacceptable) downgrade to our lot in life.
At first glance, it appears to be a life of monotony, duty, and meaningless, joyless drudgery. Am I right?
That's what I thought — until circumstances became so unbearable that I finally quit trying to be in control of my life and relinquished control to God.
Nothing could be farther from the truth.
I'm convinced that God initially blinds our eyes to the reality on purpose.
IT'S A TEST!
LIFE IS A SORTING PROCESS!!
We either obey God by faith… or walk away.
He wants to see who will trust Him enough to obey Him, even when what He's asking seems futile. Only those who have chosen to obey by faith will break through to the joy and lavish benefits God has for those who seek to do His will.
How To Apply The Principle:
Worry will never lengthen your life; it will only shorten it.
Because God knows every detail of your life, including how long you will live, choose to relax and turn your life over to God. "Cast your cares upon the Lord and He will sustain you…" (Psalm 55:22a)
Recall that Jesus paid the penalty for all of your sins: past, present, and future. Therefore, if you step into His presence today, what an upgrade it will be for you!
If you are fearful of dying, say to yourself over and over what I did: "…whether I live or die, I am the Lord's"!
Faith grows in the soil of action. So, even it you have to do these things by faith at first, the more you do and say these positive things, the more stronger your faith will become.
What To Do: Memorize these verses: Psalm 139:16, Romans 14:8, Psalm 55:22, and Psalm 46:1. Actually, I've made it easy for you. Click here to open a separate window with a PDF file containing a printable 8-1/2 x 11 page with these four Scriptures on it for you. It's marked with faint cutting lines for you to cut out (4) 3″ x 5″ Scripture cards.
Worldly wisdom says: "Seeing Is Believing!"
If we can see the big picture, with all the dots connected, and if we like the looks of it, then we'll consider doing what God says.
God never does anything according to the ways of the world. Have you noticed that?
Rather, God's wisdom says: "Believing Is Seeing!"
He promises: when we come to Him by faith — especially when we can't see how what He's asking is possible — we'll find that God keeps His promises.
But as Isaiah wrote: "Who has believed our message…?" (Isaiah 53:1 niv)
Where Do You Stand?
I've written much on the subject of Scripture memory. I invite you to read these things that God has moved me to write, then respond to God in faith.
---
PRAYER: "I give praise to You, Lord Jesus, and I delight in the wonderful wisdom You gave us when You said, "˜Therefore do not worry about tomorrow, for tomorrow will worry about its own things' (Matthew 6:34). I choose to trust You. I am content in knowing that You are in complete control of today, tomorrow, and all the days of my life."
- Jan