Have you ever stood up to the devil? I did, and I made him back off!
On this particular night, when the devil set out to terrify me (as he had many times in the past) THIS TIME I TERRIFIED HIM!
And — good news — you can do the same thing!
Read the article and find out how.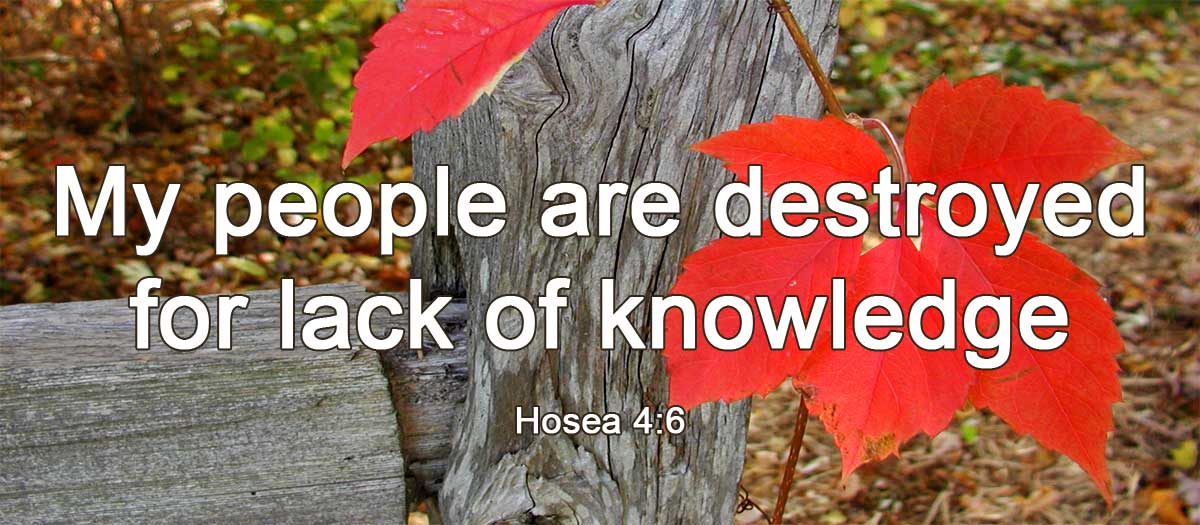 "My People Are Destroyed"
I originally wrote this on Monday, November 14, 2011. On that same Monday in 1988, exactly 23 years earlier, I was fired from the job I had held for over 16 years.
In the previous article in this series, I described how I was tormented for months by fear and by panic attacks. All of that happened before I knew anything about the spiritual basis of fear.
As the photo-Scripture above says, I was being "destroyed for lack of knowledge."
I think of all that as the "Before" part. Before I knew how to trust God, I had no clue about applying principles from the Bible. So I'm calling this the "After" part.
What I am about to relate is a real-life example of how knowing and applying passages from the Word of God allowed me to live in peace, just as God meant for us to live.
Resuming The Story:
Early in the morning of December 12, 2001, I had an experience that I can only describe as a message or a calling from God. If this ever happens to you, you'll understand what I'm talking about. I just knew it was God, and it seemed He wanted me to write. I felt called to be a Christian writer.
In early 2002, God revealed why he took away my business.
In a "Focus On The Family" broadcast, the guest was Dr. Bruce Wilkinson. His book, "The Prayer of Jabez" had made his name known to Bible Christians. Now he had a new book, "Secrets of the Vine". The new book showed how Jesus' teaching in the vineyard applies to our lives:
1 I am the true vine, and My Father is the vinedresser. 2 Every branch in Me that does not bear fruit He takes away; and every branch that bears fruit He prunes, that it may bear more fruit." (John 15:1~2)
It was that part about how the Vinedresser prunes the branches that arrested my attention. Dr. Wilkinson explained that sometimes God will "prune" away from us things He knows we can do without, and thus free us to do work for Him.
"That's it!", I shouted, slapping my hand on the table. "That's why God allowed my business to go away!" He was making room in my life for the work He had called me to do.
So I really focused on writing, and reading prolifically everything I could find about how to apply the Word of God into my life. One of the early applications I found was from the great Apostle Paul. In one of his letters to his young pastor friend, Timothy, Paul wrote something that lifted me up from the bondage of fear.
The photo-Scripture image below contains one of the most important pieces of information I have ever learned. I share it with you trusting that you will find it as useful as I did.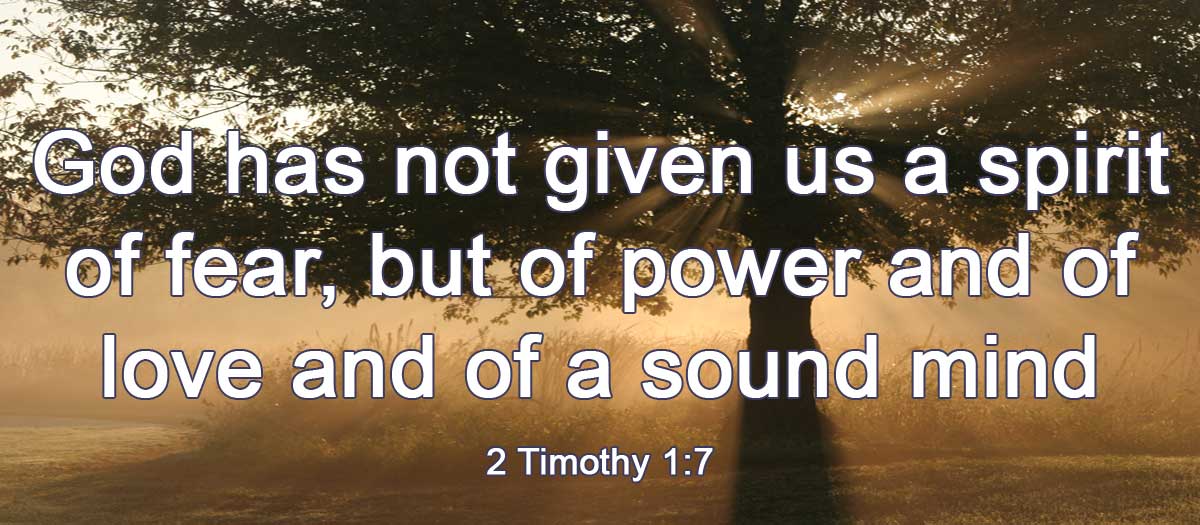 What is fear, and where does it come from?
In that passage from one of Paul's letters to Timothy, Paul wrote about a spirit of fear.
That grabbed my attention: "Just a moment Paul," I thought, "Did you say a 'spirit' of fear?? A SPIRIT??!!"
Yes, that's what he said. And that bit of knowledge was an eye-opening revelation to me! It taught me that fear is not just a physiological response to circumstances. Yes, sometimes it is. That's why God built a "fight-or-flight" mechanism into our bodies. We get a shot of adrenaline when faced with real danger, to strengthen us just in the moment we need it.
But Satan and his demons, as they always do, corrupt the good things that God has given us by using them against us. Thus, more often than not, the fear we are feeling comes from demons in the spiritual realm. It's one of their favorite weapons to use against humans.
Now, here's how I used this to my advantage.
In the fall of 2003, our son Jeff was in his final year of art college. In the tradition of starving artists everywhere, he couldn't afford to hire a model. Instead, he asked me to pose for him. I agreed, and asked if I could pose holding my Bible.
The final painting is life-size, 42″ x 46″. You can see a photo of it at the bottom.
As we set up the scene, I chose to open my Bible to Isaiah 43. My initial plan was to spend the posing time segments, when I had to sit perfectly still, memorizing Scripture. The bottom of the right-hand page contained this passage:
43 But now thus says the Lord, he who created you, O Jacob, he who formed you, O Israel: Fear not, for I have redeemed you; I have called you by name, you are mine. 2 When you pass through the waters I will be with you; and through the rivers, they shall not overwhelm you; when you walk through fire you shall not be burned, and the flame shall not consume you.
3 For I am the Lord your God, the Holy One of Israel, your Savior. (Isaiah 43:1~3)
I had been taught that phrases such as "pass through the waters" and "walk through fire" were poetic references to suffering. God doesn't promise a trouble-free life. Sometimes we get soaked; sometimes we get singed. What's important is knowing that God is with us through it all.
My initial intention was to learn new verses each time. Yet, session after session, I found myself wanting to see — indeed, needing to see —" those reassuring promises from Isaiah: "When you pass through the waters, I will be with you… when you walk through fire you shall not be burned". Little did I know just how important those promises would be.
Stand… take the sword of the Spirit, the Word of God
Here is the most important part of this story!
Read this carefully, and you'll see how, the moment I opened my mouth and began to speak His Word, God acted swiftly to banish the devil for me. Now I know, He had been right there, waiting for me to speak His Word, and by doing so I would be calling upon Him for help.
The "after" part of my story happened a few months after the portrait was done. In the early hours of a warm summer night, I found myself half-awake.
Suddenly, as though being rushed by a wicked intruder, I felt that all-too-familiar wave of panic beginning to rise within me.
Ah, but this time I knew what to do. I knew the source of the fear, and I was equipped with the Truth.
Not wishing to wake Joanne, I rose to my feet and said softly, "Lord, I know you are right here with me." Then I began to recite God's Words:
When you pass through the waters I will be with you… when you walk through fire you will not be burned…" (Isaiah 43:2)
As I spoke those Words softly into the darkness of the bedroom, the rush of fear and panic subsided INSTANTLY!
In a moment it was over. The feeling of impending doom was gone! Do you know why? Because to do battle with Satan and his demons is to do battle with bullies, and that's how bullies respond. When confronted with greater strength (in this case, the power of God by way of His spoken Word), they run!
It Is Written
Matthew's Gospel recounts Satan's efforts to tempt Jesus after He had fasted for 40 days: turn stones into bread; jump from the temple roof; worship me. Jesus deflected each of these temptations by applying the power of God's Word. To each lie he replied, "It is written…" followed by a statement of truth from Scripture.
The Temptation of Jesus

4 Then Jesus was led up by the Spirit into the wilderness to be tempted by the devil. 2 And after fasting forty days and forty nights, He was hungry. 3 And the tempter came and said to Him, "If You are the Son of God, command these stones to become loaves of bread." 4 But He answered, "It is written,

"'Man shall not live by bread alone, but by every word that comes from the mouth of God.'"

5 Then the devil took Him to the holy city and set Him on the pinnacle of the temple 6 and said to Him, "If You are the Son of God, throw Yourself down, for it is written,

"'He will command His angels concerning you,'

and

"'On their hands they will bear You up, lest You strike Your foot against a stone.'"

7 Jesus said to him, "Again it is written, 'You shall not put the Lord your God to the test.'" 8 Again, the devil took Him to a very high mountain and showed Him all the kingdoms of the world and their glory. 9 And he said to Him, "All these I will give You, if You will fall down and worship me." 10 Then Jesus said to him, "Be gone, Satan! For it is written,

"'You shall worship the Lord your God and Him only shall you serve.'"

11 Then the devil left Him, and behold, angels came and were ministering to Him.

(Matthew 4:1~11)
You'll notice that my circumstances had not changed. I still had the same financial problems as before. But because I turned to Him in faith, God honored His promise of protection by preventing Satan from tying me in knots of fear and panic.
Do you recall how God says in Malachai 3:10-11 "I will rebuke the devourer for you…"? That promise comes right after He challenges us to put Him to the test by honoring Him with our finances. Well, here is a real-life instance of God keeping His Word! I still didn't have much money, but I had His "perfect peace".
Train For Battle Before The Battle Begins
The other crucial part of the process was the fact that I had pre-decided what I would do when facing fear. Remember how I said earlier that I had read that same passage from Isaiah 43 over and over? I was training for battle.
A week or two later…
The devil took another run at me, this time as I slept. I dreamed I was lying awake in bed, in the midst of a full-blown panic attack. In my dream, the bed was shaking so hard it woke Joanne. She asked what was happening, and why the bed was shaking. I told her Satan was trying to overwhelm me with panic.
Then — still in the dream — I said to Joanne (with just a bit of a smile) "Watch this!"
Once again I quoted — this is all still part of the dream — God's promise from Isaiah 43:
When you pass through the waters I will be with you. When you walk through fire…" (Isaiah 43:2)
Suddenly I was awake!!
The dreaded feeling was totally gone! I nearly burst out laughing in the middle of the night as I realized how God had just come through for me again!
The next morning, I related my dream to Joanne.
"You have", she observed, "hard-wired yourself so effectively that Satan can't even get to you in your sleep!"
Joanne's comment that I "hard-wired" myself is one of the most important statements in this whole article.
That is why I like to encourage people to do Scripture memory. That's how you get victory over demons. Look at these Words regarding Satan from the lips of our Lord and Savior Jesus Christ:
There is no truth in him for he is a liar and the father of lies" (John 8:44)
To deal with Satan is to deal with lies. When the lie Satan places in your mind says — as it did in my case — "You're all alone in this, and you're going to lose everything", don't panic. Instead, rest in the comfort of God's promises: "I will be with you even in this time of trouble. As you persevere and put your trust in Me I will bring you through it. In the process, your faith will grow stronger." That's not a quote, but it's a paraphrase of what God will do for us, when we release our problems to Him.
Now, I've read the Barna polls, and I know that about 2/3 of Americans do not believe that Satan and his demons are real. This, despite the fact that there are 250 references to demons, by various names, in the New Testament.
But to deny the existence of demons is to call Jesus a liar. Stated simply: If you deny the existence of Satan or his ability to attack you, he has you!! You're playing right into his hands.
But it doesn't have to be that way!
Jesus also said:
31b …If you remain in my Word, you are truly my disciples, 32 and you will know the truth, and the truth will set you free" (John 8:31b~32).
Peace and freedom are yours WHEN you know God's Word.
When you keep your mind firmly fixed on God, he gives you His perfect peace. What a great deal that is! This is not just "Bible~speak". This really happens!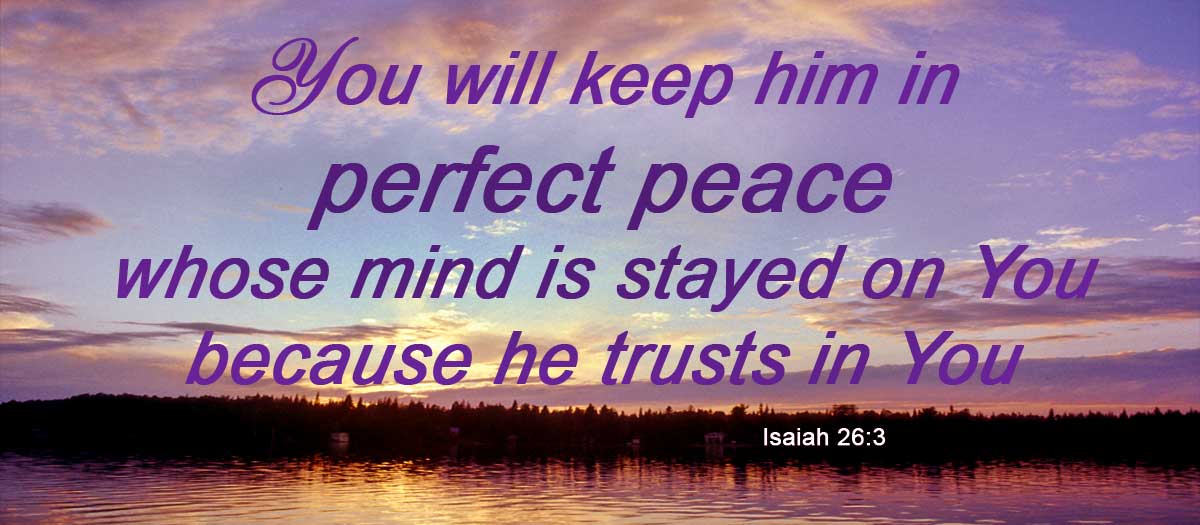 Remember that old saying: "What you don't know won't hurt you"? That's a lie! (Satan probably started that.) The truth is: "What you don't know can never help you." In my case, once I did the work of knowing, and began acting upon that knowledge, God did the part I could not possibly do.
God meant for us to use His Book. He loaded it with word pictures showing how He relates to us and how to live in harmony with Him. It's packed with truths and principles that He gave us. Those truths are our weapons against an adversary who knows we are defenseless without them.
"Submit yourselves therefore to God"
The transformation process I've just described was not instantaneous. Like forming any new habit, it took time for God to burn His Truths into the creases of my brain. All I can honestly tell you is that I've lived by the principles of God's Word for years. And, despite current circumstances that would drive many to panic, I live in complete freedom from fear.
I don't know what my future holds, but I know Who holds my future!
- Jan