People say, "I know I should read the Bible, but I just don't understand the Bible".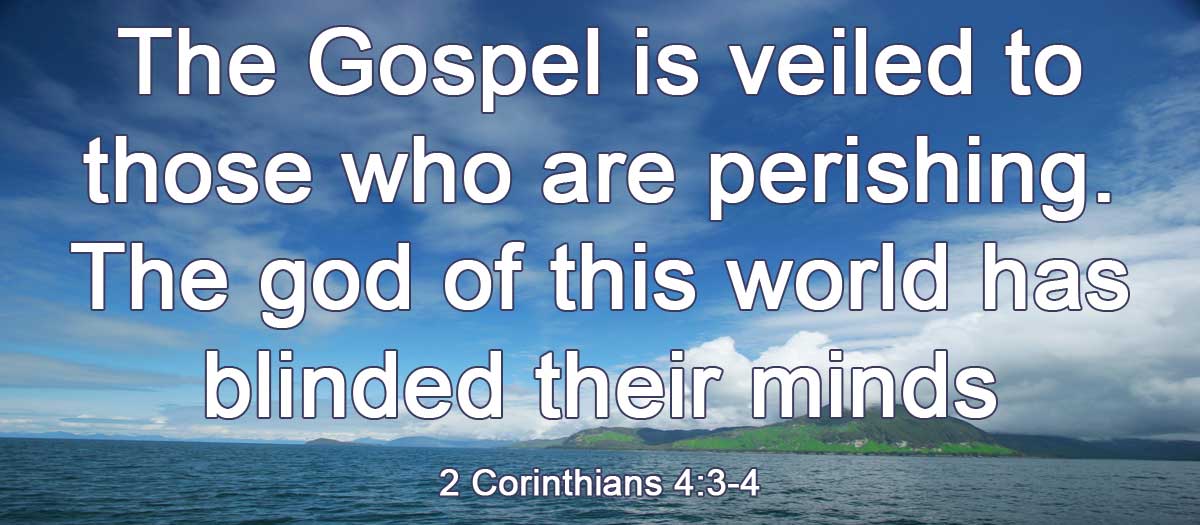 Is Our Gospel Veiled?
Have you heard — or said — things such as, "I don't understand the Bible. I've tried reading it, but it makes no sense to me!"
The same would be true of trying to read music and play the piano, if you'd seldom done it.
Both require determination, training, and diligent practice.
But that's only a small part of the problem. The larger problem is supernatural.
Read the Scripture passage in the photo/Scripture. Do you see what's happening?
There is an evil enemy at work in the background that you may not be aware of.
Do you see where it says, "…the god of this world (the devil) has blinded the minds…"? That's the main reason why you're saying, "I just don't understand the Bible."
Demons DO NOT Want You To Understand The Bible!
A KEY STRATEGY OF HELL IS:
To keep you "anesthetized" such that, when you read or hear the Word of God, you will not understand the Bible passage and apply the life-transforming principles in it!
Note the underlined text:
7 What then? Israel failed to obtain what it was seeking. The elect obtained it, but the rest were hardened, 8 as it is written, "God gave them a spirit of stupor, eyes that would not see and ears that would not hear, down to this very day." (Romans 11:7~8)
14 The sower sows the Word. 15 And these are the ones along the path, where the Word is sown: when they hear, Satan immediately comes and takes away the Word that is sown in them. (Mark 4:14~15)
Somehow, Satan and his demons are able to influence our thoughts in such a way that we don't understand the Bible passage being spoken. Therefore we remain ignorant of the wisdom God wants us to have.
Another example: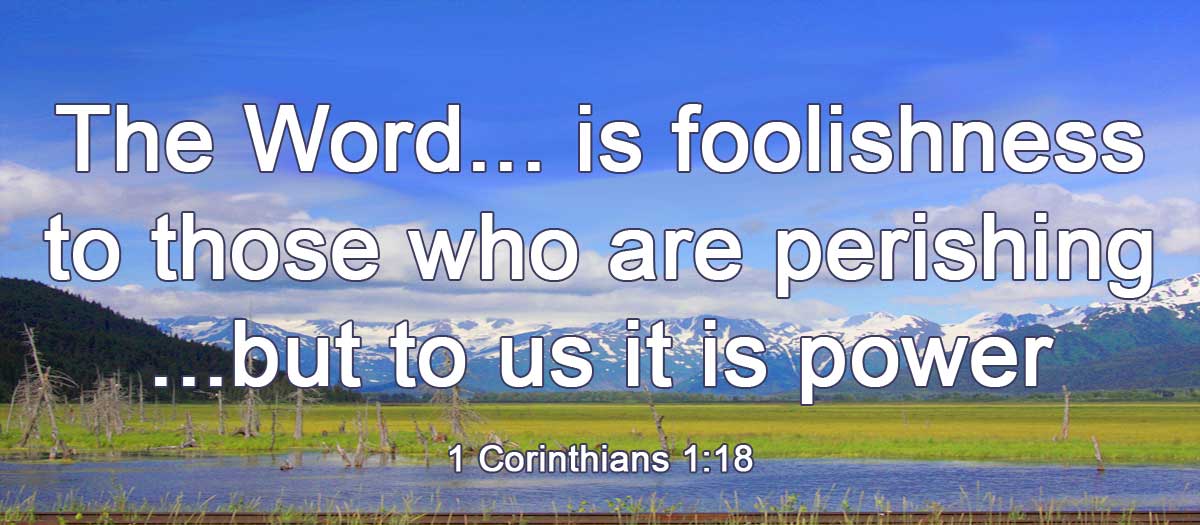 Here is the entire Scripture passage:
For the Word of the cross is foolishness to those who are perishing, but to us who are being saved it is the power of God. (1 Corinthians 1:18)
There are many more verses that show how the devil is actively working to keep you from being able to understand the Bible.
Are you seeing what I'm seeing? These three passages (and 2 Corinthians 4:3-4 in the Scripture/photo above) all separate people into two groups. One group has taken hold of the Word, and is becoming powerful. The other group is ignorant of biblical principles, and some are perishing.
Here's What The Demons Know About You:
Satan's Biggest Asset Is Your Biblical Ignorance!
They know that if you really take hold of the Word of God and begin to apply biblical principles, the demons will lose their power over you!
[tweetthis]#SpiritualWarfare Satan's Biggest Asset Is Bible Ignorance! When you apply the Word they lose power over you![/tweetthis]
Here's what I did to overcome Biblical ignorance:
I began to understand the Bible by listening to sermons on radio broadcasts and through various digital media such as tapes, CD's, etc.
As I came to understand the Bible, I acquired a thirst for knowing God that led me to begin the discipline of Scripture memory.
Discipleship By Radio!
Getting The Word Of God Into You:
Here's a verse I just "found" recently:
20 My son, keep your father's commandment, and forsake not your mother's teaching. 21 Bind them on your heart always; tie them around your neck. 22 When you walk, they will lead you; when you lie down, they will watch over you; and when you awake, they will talk with you. 23 For the commandment is a lamp and the teaching a light, and the reproofs of discipline are the way of life (Proverbs 6:20-23)
Verse 22 really speaks to my soul. Those three phrases describe exactly what I've been experiencing:
When you walk, they will lead you
when you lie down, they will watch over you
when you awake, they will talk with you
Those things happen for me every day. And the good news is: everyone can have it!
You can't read very many pages in the Bible without coming to a passage that commands us to "know and understand the Bible". In fact, someone has said that there are some 3,900 passages commanding us to do Scripture memory. It's no exaggeration at all to say that, on the average, at least once per page the Bible commands us to know what is on those pages.
Jesus was really big on this. He quoted Scripture so many times, and He wanted all of us to know Him by knowing His Word. Read the Gospels and see for yourself.
It took God many decades to pound at least some of His wisdom into me so I would understand the Bible. But I finally get it, and He has called me to do what He did: urge others to know His Word.
Here is one of many examples:
21 Whoever has my commandments and keeps them, he it is who loves me. And he who loves me will be loved by my Father, and I will love him and manifest myself to him." 22 Judas (not Iscariot) said to him, "Lord, how is it that you will manifest yourself to us, and not to the world?" 23 Jesus answered him, "If anyone loves me, he will keep my word, and my Father will love him, and We will come to him and make Our home with him. 24 Whoever does not love Me does not keep My words. And the Word that you hear is not Mine but the Father's who sent Me. (John 14:21~24)
Three Articles To Get You Started In Scripture Memory.
You entered this world with a ravenous natural hunger, but almost no spiritual hunger. If you continually suppress your spiritual hunger, your spirit becomes emaciated.
But there's a supernatural phenomenon that takes over: "You will want more of whatever you feed yourself on." The key is: ignore your feelings and begin by faith to feed yourself on God's Word. It's not natural; it's supernatural!
Read the Full Article

Three Stages Of Scripture Learning: 1) DISCIPLINE – At first it takes a determined effort to do these things. Call it a step of faith. You have to believe, though you can't see the result yet. Here's where most people quit. Don't be one of them. Instead, reorder your priorities. Put God first! Start with just a few minutes each day. Do that for a week, then increase it little by little. As you continue diligently, you'll arrive at the next stage: 2) DESIRE – now you look forward to it; keep on persevering and you'll reach the summit: 3) DELIGHT! – Astonishing; you will never look back!
Read the Full Article

Seven Steps: 1: MAKE A DECISION! Decide TODAY that you WILL begin doing Scripture memory; 2: CHOOSE A TIME OF DAY! I prefer early morning, but you may not; 3: CHOOSE SCRIPTURES TO MEMORIZE This is very much a personal choice; 4: READ THEM OUT LOUD — if possible. It enhances the learning process; 5: MEMORIZE THE REFERENCE — so you'll know where in the Bible it is; 6: STUDY THE PASSAGE — 5 questions with which to examine a passage; 7: FIND WAYS TO SHARE IT — This really pushes you to learn.
Read the Full Article
Earlier I mentioned the need for determination, training, and diligent practice. Jesus applied that principle when He said:
…if you remain in My Word, you will truly be My disciples, and you will know the truth, and the truth will set you free" (John 8:31~32)
Hell trembles when another believer begins to understand the Bible.
---
PRAYER: "I praise You and I thank You, Lord Jesus, for the wisdom of that simple phrase: "˜…if you remain in My Word…'. As I've chosen to spend more time with You in Your Word, what began as a discipline became a desire… and is now a delight! Your Word has lifted the veil from before my eyes. I can truly say — like the blind man whose eyes Jesus opened: "˜ I was blind, but now… I SEE!' "(John 9:25)

- Jan