Subtitle: "Keep Short Accounts With God!"
In Part 1, I explained how a man wrote a very detailed comment on another article, in which he raised some very good objections. He concluded that Satan is in control of the world we live in.
Here is his entire comment:
"And yet, all the world is under the devil's control. We are living in the most evil time in human history, and more humans are under the devil's dominion than ever before.
If God "loves" us, why does he allow every single one of us to be subject to Satan's rule?
A loving parent doesn't stand idly by and allow a child to die at the hands of evil. God does. A loving parent doesn't allow some of their children to oppress other children. God does. A loving parent doesn't allow a child to destroy the parent's creations. God does.
God allows his "children" (humans) to kill each other, to oppress each other, to destroy God's creation.
I don't necessarily disagree with what you wrote in your article, but why will God condemn most people to hell after knowingly putting us in this challenging test that NOBODY can pass?
Why will God allow most people to submit to Satan's rule, and why does God allow life to be so miserable for anybody who truly does try to submit to His rule? Why will God not cast out Satan?
In a universal scale, I agree. God is most powerful. But in the lives of humans? No. Satan rules. Satan is the dominant power. Satan has real control. And it sucks."
Near the end of Part-1:
Reader's Second Point:
If God "loves" us, why does he allow every single one of us to be subject to Satan's rule?
Short answer: Many are – but some are not. It can often depend on us.
(Continuing from previous article:)
1 TEMPTATION: Satan has studied you to discover your weaknesses. Then, he tempts you to commit a sin.
Example — The Garden Of Eden:
15 The Lord God took the man and put him in the garden of Eden to work it and keep it. 16 And the Lord God commanded the man, saying, "Of every tree of the garden you may freely eat; 17 but of the tree of the knowledge of good and evil you shall not eat, for in the day that you eat of it you shall surely die." (Genesis 2:15~17)
4 Then the serpent said to the woman, "You will not surely die. 5 For God knows that in the day you eat of it your eyes will be opened, and you will be like God, knowing good and evil." (Genesis 2:4~5)
Two opposing statements:
God said: "you shall surely die."
The snake said: "You will not surely die."
Satan is calling God a liar!!
As an aside:
We are just like Adam and Eve. Throughout each day, we constantly make choices. Some of those choices are called sins.
In Their Trial, THEY CHOSE TO BELIEVE THE SNAKE:
6 So when the woman saw that the tree was good for food, that it was pleasant to the eyes, and a tree desirable to make one wise, she took of its fruit and ate. She also gave to her husband with her, and he ate. (Genesis 2:6)
What Peter did NOT know; what we MUST know!
God will always "provide the way of escape":
No temptation has overtaken you that is not common to man. God is faithful, and He will not let you be tempted beyond your ability, but with the temptation He will also provide the way of escape, that you may be able to endure it. (1 Corinthians 10:13)
2 ACCUSATION: This is all about the strict legal system in heaven, where the court is in session day and night, and how "the accuser of our brothers" (See Scripture below) tries to get a judgement against you!
YOU could be COOPERATING WITH SATAN!
Note the underlined text:
And I heard a loud voice in heaven, saying, "Now the salvation and the power and the kingdom of our God and the authority of his Christ have come, for "the accuser of our brothers" has been thrown down, who accuses them day and night before our God. (Revelation 12:10)
3 PERMISSION:
Here is a very important thing that the devil DOES NOT WANT YOU TO KNOW!
Satan MUST get permission from God before he can do anything to you!
Example — Peter's Denial:
Jesus Foretells Peter's Denial

31 Simon, Simon, behold, Satan demanded to have you, that he might sift you like wheat, 32 but I have prayed for you that your faith may not fail. And when you have turned again, strengthen your brothers." (Luke 22:31~32)
Three times Peter denied knowing Jesus. His denials were lies! Peter's lies gave Satan an opportunity to go into the court of Heaven and demand permission against Peter!
There are TWO possible outcomes:
Peter chose to ignore his sin.
However:
Peter could have confessed his sin.
9 If we confess our sins, he is faithful and just to forgive us our sins and to cleanse us from all unrighteousness. (1 John 1:9)
4 RECONCILIATION: Having realized that our actions do not bring glory to God; when we choose not to put the blame others, we can be reconciled to God!
The Courtroom Drama Unfolds:
Note the underlined text:
God's Everlasting Love

31 What then shall we say to these things? If God is for us, who can be against us? 32 He who did not spare his own Son but gave him up for us all, how will he not also with him graciously give us all things? 33 Who shall bring any charge against God's elect? It is God who justifies. 34 Who is to condemn? Christ Jesus is the one who died—more than that, who was raised—who is at the right hand of God, who indeed is interceding for us. (Romans 8:31~34)
Do you get it? Jesus is interceding for YOU in the court of Heaven!
Jesus: Mediator / Intercessor / Advocate:
…He [Jesus] is able to save to the uttermost those who draw near to God through Him, since He always lives to make intercession for them (Hebrews 7:25)
24 For Christ has entered, not into holy places made with hands, which are copies of the true things, but into heaven itself, now to appear in the presence of God on our behalf. (Hebrews 9:24)
Our lawyer / advocate is in the courtroom: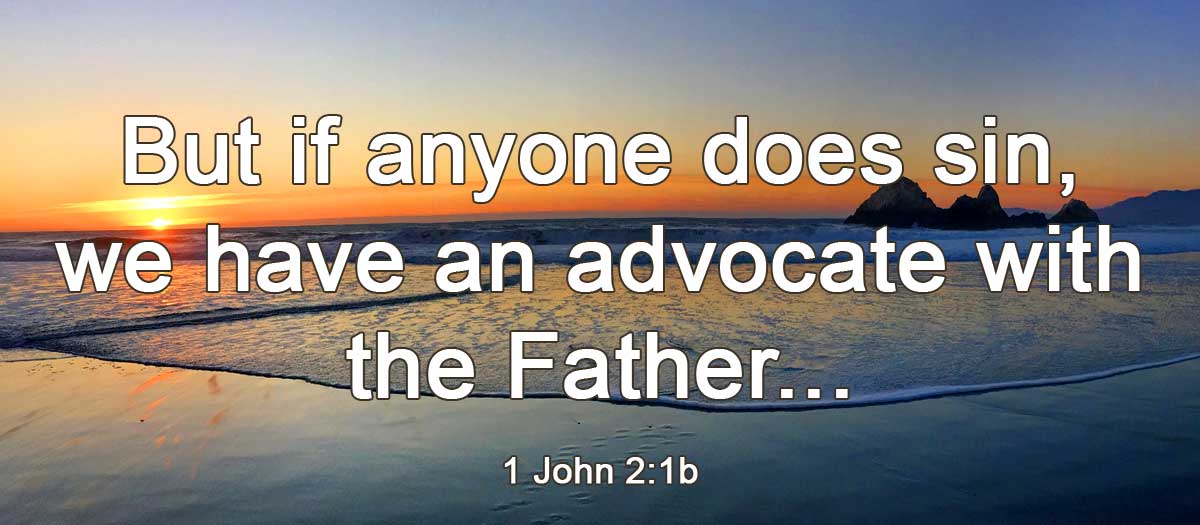 Note the underlined text:
1 My little children, I am writing these things to you so that you may not sin. But if anyone does sin, we have an advocate with the Father, Jesus Christ the righteous. (1 John 2:1)
Our attorney approaches the bench:
When the charges are brought against us by the devil, our attorney says in effect, "Your Honor, the charge is accurate; the defendant is guilty. But — point of order in the courtroom — the penalty for that transgression has already been paid in full by Me!".
And then, what does the Judge say?
"CASE DISMISSED!!"
In our lives today, we must all recognize our sin and ask for forgiveness immediately. I know you would agree that the outcome in which Satan is denied permission is the best choice.
Perhaps now you understand why I added to the title, "Keep Short Accounts With God!"
- Jan