Sometimes God takes things away from us because He is implementing a new and better plan. That's when you decide whether or not to trust God.
The Lord gave, and the Lord has taken away; Blessed be the name of the Lord." (Job 1:20b)
The Moment I Knew What It REALLY Means To Trust God
On the morning of Wednesday, October 6, 1993, I stepped out of my car and walked toward the office building where I worked.
But before I reached the building, something happened that transformed my life instantly and forever.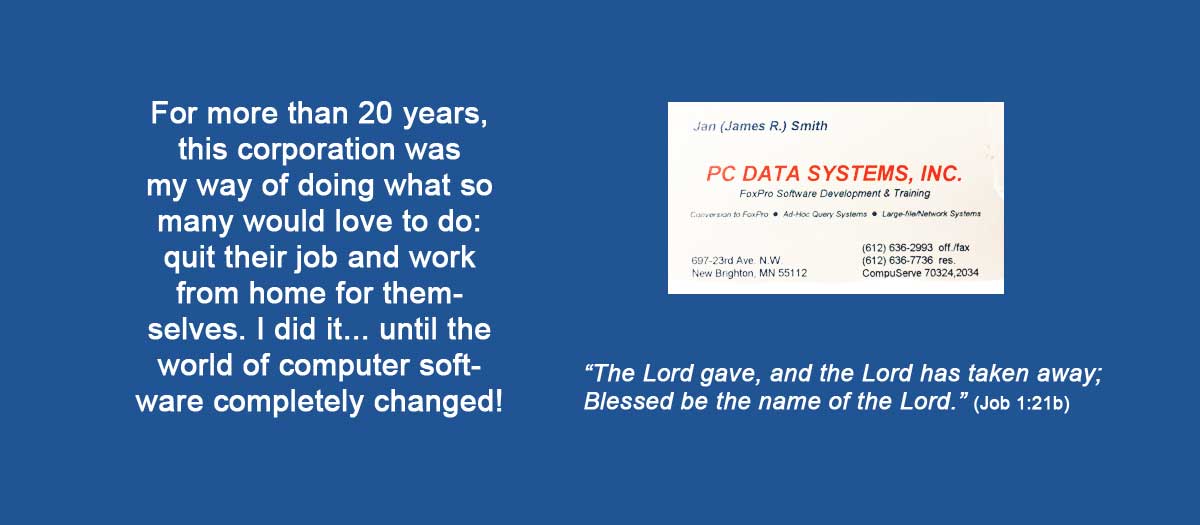 The Background Story
I was one of several computer programmers working on a large software application.
Our employer was a large corporation. The pay and benefits were fine. Still, my heart's desire was to be my own boss; to start my own software consulting business.
With that goal in mind, I had already formed my own corporation:
PC DATA SYSTEMS, INC.
But my dilemma, of course, was: how do I get started… without going broke?
The short answer is: "trust God!" But how? What do I do? Let me tell you how God answered those questions for me on this particular morning.
Behold the Hand of God.
Notice His timing. Can you "connect the dots" as I describe these events?
Earlier that year, my first programming article appeared in FoxPro Advisor, the trade magazine devoted to the software we were using.
Shortly after, my boss assigned me as a substitute conference speaker when a co-worker was no longer available. It was just a ten-minute overview of what we were working on. I used a bit of humor, which made a dry subject a bit more palatable.
One of the attendees was impressed enough with my speaking and writing to keep the conference program (with my contact information) and give it to his boss.
In September, the boss called and requested a meeting. When I arrived, I noticed that he had copies of things I had written on his desk.
In our meeting, he explained that they needed help for about two months. He offered me two months work, at a very attractive hourly rate!
He graciously allowed me a few days to think it over. To accept his offer would mean I would quit my current job. No job security; no paid sick days; no paid vacations; no medical insurance.
BUT: I would be my own boss – the CEO of a corporation. (Don't be too impressed with the title; I was also the janitor.)
Anyway, that's what I was turning over in my mind as I went to work that morning.
Two months of work.
Great hourly rate… but… just two months.
Then that voice of "WHAT-IF" began talking me out of it:
What if I can't find another client after the two months are up?
What if they don't like my work and dismiss me early?
What if I can't get along with the people there?
What if there's an accident or my health fails and I can't work?
What if…
WHAT IF!
SUDDENLY… GOD!
What happened next stopped me in my tracks!
It's really difficult to describe this. In "Christian-Speak", we might call it a Divine revaluation. Whatever you choose to call it, I knew instantly that Almighty God had just laid something upon my heart.
It was like a floodgate opening. WHOOSH! There was no voice from the clouds; no blinding light; no burning bush… but I knew… I had a sudden awareness.
Words came to mind. Not an audible voice; just this articulation of what I suddenly knew:
"If you don't take this opportunity, what it means is:
you don't trust God to provide for you."
There followed a tiny fraction of a second of hesitation, as though the "what-if" demon sought to squelch that revelation.
That was followed by an immediate and deep conviction, a knowing in my spirit: Trust God! That's the essence what it really means to be an authentic Christian: TRUST GOD, even when you're scared; even when you can't see how things will turn out; even when it contradicts common sense!
I was 51 years old then, and I tell you the truth: I had never ever done that!
That's The Moment I Became A Christian!
I knew what I would do: trust God!
And then: Oh, the peace that came over me, the moment I made that decision.
I soon called the client and accepted his offer. I would, of course, give two weeks notice to my present employer.
And on Monday, October 25, 1993, PC DATA SYSTEMS, INC. became my full-time job. And for about two decades I was able to support my family, all because of my decision to take a leap of faith — and actually trust God!
That's how my business began: with my determination to trust God.
But Now My Business Has Ended
The final documents and forms have been filed. The business checking account is closed. The separate phone line has been disconnected.
As with other things I've put my hand to, the skills that once were valued are now obsolete.
But notice: I'm still here! And God is doing a work in me.
Am I sad or upset over this?
Are you kidding me?
To the contrary, I'm excited!
Instead of a business, NOW I HAVE A CALLING FROM GOD!
Part of that is this online ministry: Word Blessings!
13 …But one thing I do: forgetting what lies behind and straining forward to what lies ahead, 14 I press on toward the goal for the prize of the upward call of God in Christ Jesus. (Philippians 3:13-14)
I continue to live in the land of "trust God" every day. Can't wait to see what He's going to do next.
Delight yourself in the Lord, and he will give you the desires of your heart. (Psalm 37:4)
Now my heart's desire has turned to doing what you see here: writing about the things God has shown me. This will never be obsolete!
So I can echo the attitude of Job in all sincerity:
The Lord gave, and the Lord has taken away; Blessed be the name of the Lord." (Job 1:20b)
But he knows the way that I take; when he has tried me, I shall come forth as gold." (Job 23:10)
…Though he slay me, yet will I trust God. (Job 13:15)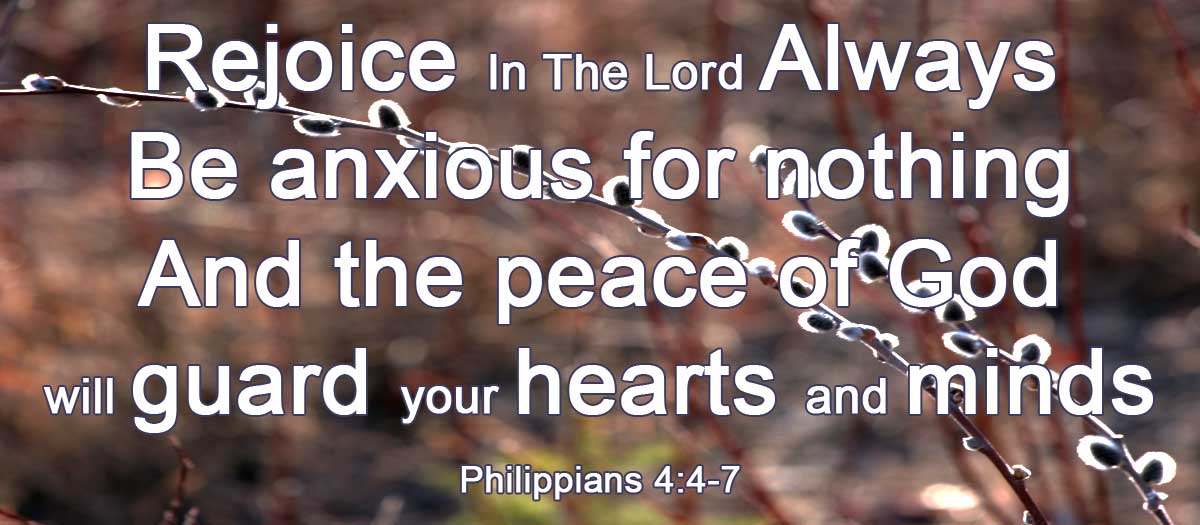 Here is the entire Scripture passage:
4 Rejoice in the Lord always; again I will say, rejoice. 5 Let your gentle spirit be known to everyone. The Lord is at hand; 6 do not be anxious about anything, but in everything by prayer and supplication with thanksgiving let your requests be made known to God. 7 And the peace of God, which surpasses all understanding, will guard your hearts and your minds in Christ Jesus. (Philippians 4:4~7)
I really do have these things:
Joy in the Lord, which is constant (unlike happiness which rises and falls with circumstances).
I have a gentle spirit. That was not always true.
I KNOW that the Lord is always "at hand"; always with me.
I can honestly say that I am free from anxiety! Again, not true in the past.
I am constantly (albiet privately) praising and thanking God throughout the day for the blessings He has given me.
Finally: Oh, the peace that I have. Can't say it any better than Paul did; it surpasses all understanding.
And the really good news is: ANYONE can have these things!
~ Jan
---
EPILOGUE
There is a bit more to the story of the ups and downs of my business. In a way, it had ended in 2001 when the economy went south and I ended up with no clients at all. Since then, I have had no new projects to work on. Partly that is because of the economy, and partly is because the development tools I was using were all but obsolete. The only programming I've done since then is to make changes and enhancements to existing systems. Indeed, I urged them to replace me, and get these systems updated an re-written using today's technology.
I've written about what happened back then, in a series of articles entitled, "How To Be Free From Fear, Worry, and Anxiety". As with all things I write here, I tell these stories to make a point about applying biblical principles into everyday life.
Click Here for excerpts and links to these articles.
---