A plug for Scripture memory:
16 For I am not ashamed of the gospel, for it is the power of God for salvation to everyone who believes, to the Jew first and also to the Greek. 17 For in it the righteousness of God is revealed from faith for faith, as it is written, "The righteous shall live by faith." (Romans 1:16~17)
Scripture Memory Benefit: God's MERCY is new every day!
ANOTHER DAY = ANOTHER CHANCE
God's love for you and for me is constant. Every day He gives us another chance to grow in obedience to Him. Therefore, I choose to put my full trust in Him. He has never let me down!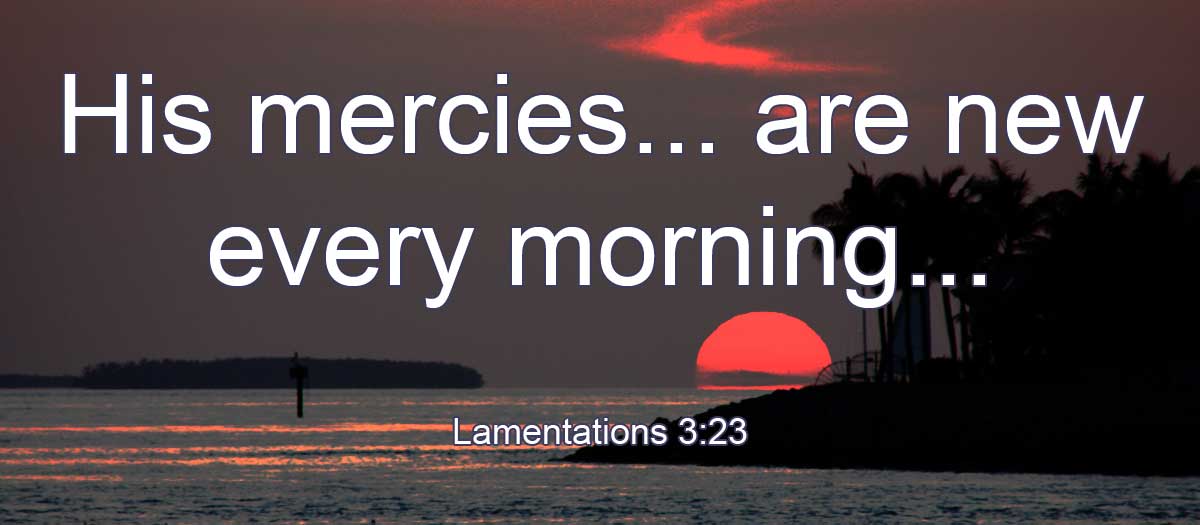 Here is the entire Scripture passage:
21 But this I call to mind, and therefore I have hope: 22 The steadfast love of the Lord never ceases; his mercies never come to an end; 23 they are new every morning; great is your faithfulness. 24 "The Lord is my portion," says my soul, "therefore I will hope in him." 25 The Lord is good to those who wait for him, to the soul who seeks him. 26 It is good that one should wait quietly for the salvation of the Lord. (Lamentations 3:21~26)
Aren't you glad God isn't like people?
With most people, you're fortunate if you get even a second chance. How does that old saying go? "Fool me once: shame on you! Fool me twice: shame on ME!" Some people will hold a grudge for a long, l-o-n-g time!
Not so with God!
You may have messed things up royally today. But tomorrow, He'll be right there for you, longing to forgive you, help you, calm you, strengthen you, encourage you and pour out His steadfast love and mercy upon you. He really means it.
Don't make the mistake of thinking that God is like the people you know. People will hurt you, people will misunderstand you, and people will let you down. God will not let you down! When God allows pain in your life, it's always for a good reason. It's to help you. And He will never let you down.
Get to know Him, by getting to know His Word.
- Jan