When you love God, and when you know He is calling you, you'll reap this benefit: God works ALL things together for good!.
Heavenly Father, I choose to trust You when You say my trials are just for a season. I know something good will come out of it. I choose to step out in faith as I wait for You!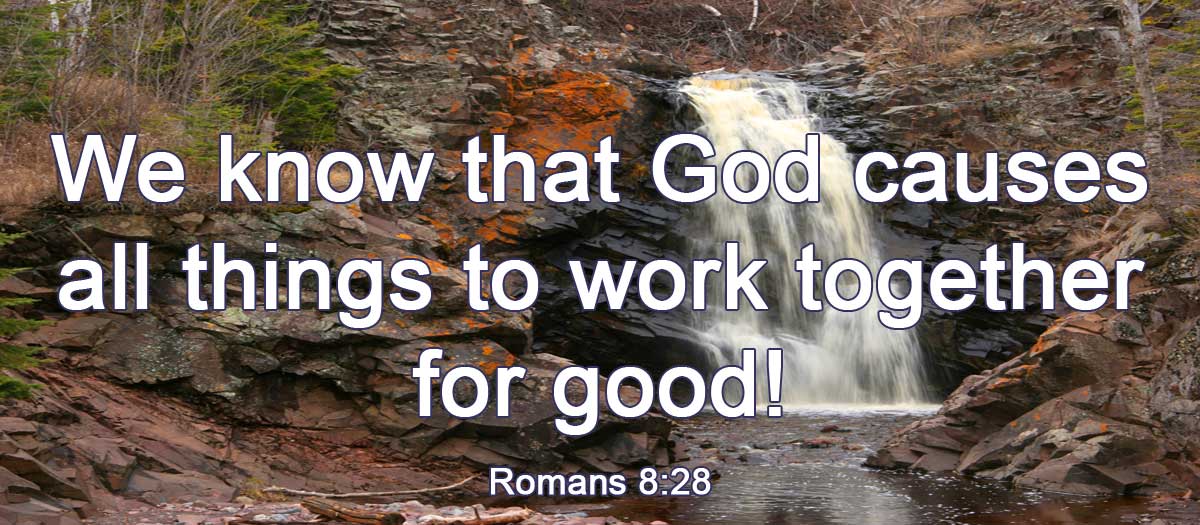 Here is the entire Scripture passage:
New King James Version:

And we know that all things work together for good to those who love God, to those who are the called according to His purpose. (Romans 8:28)
English Standard Version:

And we know that for those who love God all things work together for good, for those who are called according to his purpose. (Romans 8:28)
I can see two qualifications:
for those who love God
for those who are called according to His purpose
His Ultimate Purpose:
The Great Commission

16 Now the eleven disciples went to Galilee, to the mountain to which Jesus had directed them. 17 And when they saw him they worshiped him, but some doubted. 18 And Jesus came and said to them, "All authority in heaven and on earth has been given to me. 19 Go therefore and make disciples of all nations, baptizing them in the name of the Father and of the Son and of the Holy Spirit, 20 teaching them to observe all that I have commanded you. And behold, I am with you always, to the end of the age." (Matthew 28:16~20)
Summary:
the eleven disciples went to [where] Jesus directed them
they saw Him
they worshiped Him
some doubted
Jesus said, "

all authority… has been given to Me…"

Go therefore and make disciples…

teaching them to observe all…

I am with you always
The truth will set you free

31 So Jesus said to the Jews who had believed him, "If you abide in my word, you are truly my disciples, 32 and you will know the truth, and the truth will set you free." (John 8:31~32)
So The Question On The Floor Is:
"DO I LOVE GOD?"
Here are Scriptures to help determine your "Love Quotient"
15 If you love me, you will keep my commandments. 16 And I will ask the Father, and he will give you another Helper, to be with you forever, 17 even the Spirit of truth, whom the world cannot receive, because it neither sees him nor knows him. You know him, for he dwells with you and will be in you. (John 14:15~17)
21 Whoever has my commandments and keeps them, he it is who loves me. And he who loves me will be loved by my Father, and I will love him and manifest myself to him." 22 Judas (not Iscariot) said to him, "Lord, how is it that you will manifest yourself to us, and not to the world?" 23 Jesus answered him, "If anyone loves me, he will keep my word, and my Father will love him, and we will come to him and make our home with him. 24 Whoever does not love me does not keep my words. And the word that you hear is not mine but the Father's who sent me. (John 14:21~24)
God Is Love

7 Beloved, let us love one another, for love is from God, and whoever loves has been born of God and knows God. 8 Anyone who does not love does not know God, because God is love. 9 In this the love of God was made manifest among us, that God sent his only Son into the world, so that we might live through him. 10 In this is love, not that we have loved God but that he loved us and sent his Son to be the propitiation for our sins. 11 Beloved, if God so loved us, we also ought to love one another. 12 No one has ever seen God; if we love one another, God abides in us and his love is perfected in us.

13 By this we know that we abide in him and he in us, because he has given us of his Spirit. 14 And we have seen and testify that the Father has sent his Son to be the Savior of the world. 15 Whoever confesses that Jesus is the Son of God, God abides in him, and he in God. 16 So we have come to know and to believe the love that God has for us. God is love, and whoever abides in love abides in God, and God abides in him. 17 By this is love perfected with us, so that we may have confidence for the day of judgment, because as he is so also are we in this world. 18 There is no fear in love, but perfect love casts out fear. For fear has to do with punishment, and whoever fears has not been perfected in love. 19 We love because he first loved us. 20 If anyone says, "I love God," and hates his brother, he is a liar; for he who does not love his brother whom he has seen cannot love God whom he has not seen. 21 And this commandment we have from him: whoever loves God must also love his brother. (1 John 4:7~21)
Isn't it great that you can know truths about God's ways — including His promises to help you? (Some people actually believe we can't know any truth!) And isn't it fantastic to realize that He's working for your good to give you His very best?
God never wastes an experience. He can take what seems to be an absolute "train wreck" of a life, and use it for His purposes. He didn't cause your problems, but He allowed them to happen for reasons you may not know until you're in heaven. The fact is: He saw your train wreck coming before He created the universe!
God's plan is to strengthen you for His work. He'll take your mess and make it your message. He will teach you things through adversity that you would never learn unless He allowed some rain to fall into your life. These lessons are far more bearable when you know God has so much confidence in you that He allows them to happen. The "fire" of the adversity you are in may be hot, but God's hand is on the thermostat! He knows exactly how much you can stand.
Job put it so nicely:
But He knows the way that I take; when He has tried me, I shall come forth as gold" (Job 23:10)
This is the process God uses to make us more like Christ, so we can do Christ's work.
- Jan