We have an opportunity – indeed, an obligation – to encourage Christian believers everywhere to pray Psalm 91, asking God for His Divine protection from the deadly virus that people all around the world are afraid of.
Someone urged me to include a definition of the word "pestilence" in case a reader doesn't know what it means.
From "dictionary.com"
---
pestilence
1) a deadly or virulent epidemic disease
2) bubonic plague
3) something that is considered harmful, destructive, or evil.
Another very important point in the world-wide conversation is this: God created every one of those microbes! He knows EXACTLY where each microbe is; where it's going; whom it will infest – and who will be victims of His virus!
---
In the image below, I have highlighted in red the words/phrases that refer to the micro-organisms that are spreading throughout the whole world.
---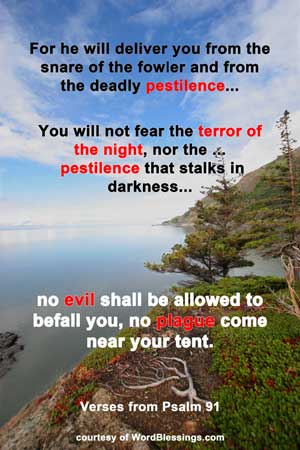 I have also created a PDF file that has the image above in it. You can download the PDF into your mobile phone so that you can read/share the above image when you are not able to connect to the internet. INDEED: I urge you to share this with EVERYONE you know that we can all stand together against the evil virus!
To open/download the PDF file, Click/Tap Here
Here is the whole text of Psalm 91. I strongly encourage you to memorize Psalm 91, or at least read it as often as you can and pray it over yourself, over your family and ultimately over the whole world. This virus is out to destroy human life on this planet – EXCEPT FOR THOSE who know that "under his wings you will find refuge". (see verse 4 in the psalm text below)
Psalm 91 English Standard Version (ESV)

He who dwells in the shelter of the Most High will abide in the shadow of the Almighty. 2 I will say to the Lord, "My refuge and my fortress,my God, in whom I trust." 3 For he will deliver you from the snare of the fowler and from the deadly pestilence.4 He will cover you with his pinions, and under his wings you will find refuge; his faithfulness is a shield and buckler.5 You will not fear the terror of the night, nor the arrow that flies by day, 6 nor the pestilence that stalks in darkness, nor the destruction that wastes at noonday.7 A thousand may fall at your side, ten thousand at your right hand, but it will not come near you. 8 You will only look with your eyes and see the recompense of the wicked.9 Because you have made the Lord your dwelling place — the Most High, who is my refuge — 10 no evil shall be allowed to befall you, no plague come near your tent. 11 For he will command his angels concerning you to guard you in all your ways. 12 On their hands they will bear you up, lest you strike your foot against a stone. 13 You will tread on the lion and the adder; the young lion and the serpent you will trample underfoot. 14 "Because he holds fast to me in love, I will deliver him; I will protect him, because he knows my name. 15 When he calls to me, I will answer him; I will be with him in trouble; I will rescue him and honor him. 16 With long life I will satisfy him and show him my salvation." (Psalm 91)
The process of using small organisms to get the attention of people was not without precedent. Look at this next quote from Exodus:
The Third Plague: Gnats (ESV)

16 Then the Lord said to Moses, "Say to Aaron, 'Stretch out your staff and strike the dust of the earth, so that it may become gnats in all the land of Egypt.'" 17 And they did so. Aaron stretched out his hand with his staff and struck the dust of the earth, and there were gnats on man and beast. All the dust of the earth became gnats in all the land of Egypt. 18 The magicians tried by their secret arts to produce gnats, but they could not. So there were gnats on man and beast. 19 Then the magicians said to Pharaoh, "This is the finger of God." But Pharaoh's heart was hardened, and he would not listen to them, as the Lord had said. (Exodus 8:16~19)
Summarizing the key words and phrases (Psalm 91):
deadly pestilence (verses 3 and 6)
You will not fear the terror of the night (verse 5)
evil shall be allowed to befall you (verse 10a)
no plague come near your tent (verse 10b)
Psalm 91: Memorize it; Pray it; praise God for it. You'll never regret it!
- Jan