Even half-truths are lies. The Devil ALWAYS lies!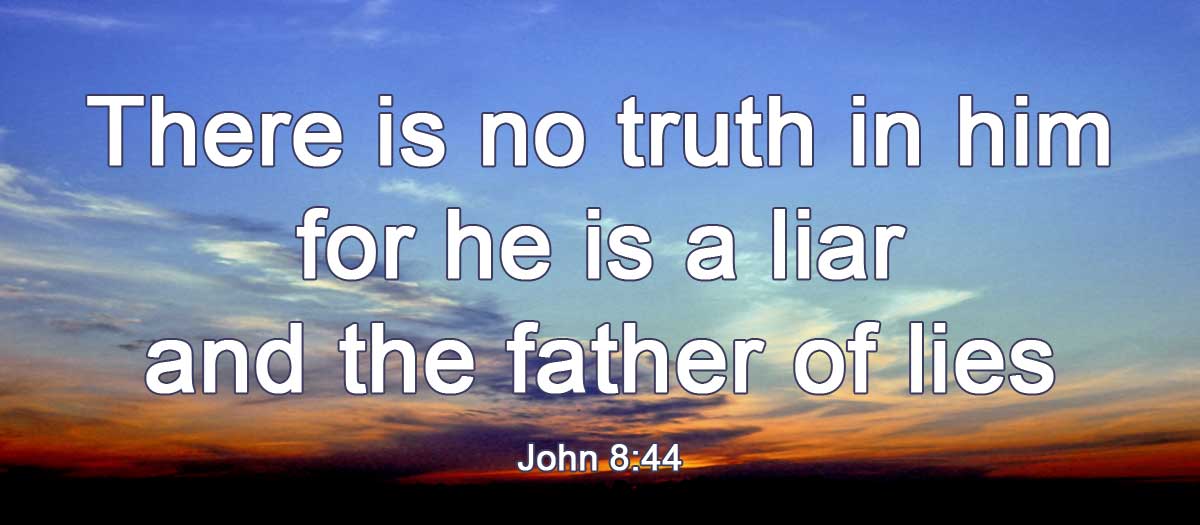 Here is the entire Scripture passage:
You are of your father the devil, and your will is to do your father's desires. He was a murderer from the beginning, and has nothing to do with the truth, because there is no truth in him. When he lies, he speaks according to his own nature, for he is a liar and the father of lies. (John 8:44)
How To Apply The Principle:
John 8:44 contains several vital Gospel Truths, right from the mouth of Jesus:
First: the devil is real. It's become fashionable in our time to think of "the devil" as merely a symbol of evil, something left over from medieval times. "We are more sophisticated than the people centuries ago", people say, and thus "We know better than to believe those "fairy tales".
…there is no truth in him…
…he is a liar and the father of lies.
Notice that the verse says, "When he lies…". It's not a matter of "if" but of "when". The devil will always lie to you.
Here's a human illustration of how the devil always lies:
Suppose you know someone who always lies. Now, suppose you spoke to that person at the shopping mall, and the person said, "Hey, I just drove past your house. It's engulfed in flames and it's burning to the ground."
At that moment, what do you know about your house?
Right! Your house is not on fire. It's not being destroyed.
You know that for certain, because you know the person ALWAYS LIES!
That same thing is true with Satan and his demons. The devil always lies!
So how is it that the devil is able to lie to us, and how do we know whether or not it's a lie?
4 For the weapons of our warfare are not of the flesh but have divine power to destroy strongholds. 5 We destroy arguments and every lofty opinion raised against the knowledge of God, and take every thought captive to obey Christ (2 Corinthians 10:4~5)
In 2 Corinthians 10:4-5 (above) Paul referred to demonic "strongholds", to "arguments", and to "taking every thought captive". Clearly, the devil is able somehow to insert thoughts into our conscious minds. Often, people perceive those thoughts as their own thoughts.
As someone has said:
"Not every thought you think you thought is a thought you thought!"
The devil can also influence our emotions. One of his favorites is to cause us to "feel" guilt, even after we're repented. So we hear people say, "I know I'm forgiven, but I just can't forgive myself."
That feeling of guilt is a lie from the devil!
You can tell whether or not it's the devil by checking the thought against the Word of God. Does it contradict the Bible? Then it's from the devil. Simple as that! And the more Scripture you know, the better equipped you are to discern truth from lies.
When you hear that "voice in your mind speaking thoughts of fear or worry or panic or "what if…" in your mind, those are the lies of a demon trying to tie you in knots of fear.
Jesus repeatedly said,
Do not be afraid

Fear not

Let not your hearts be troubled
Jesus offers you His peace and freedom from fear. Demons want you to be curled up in a corner whimpering in fear.
So our challenge is to be continually honing our spiritual powers of discernment so that we can recognize an attack from the devil while it's happening or about to happen. Then we must choose by faith to act according to God's Word rather than by our nature as fallen human beings.
Supporting Scriptures:
11 About this we have much to say, and it is hard to explain, since you have become dull of hearing. 12 For though by this time you ought to be teachers, you need someone to teach you again the basic principles of the oracles of God. You need milk, not solid food, 13 for everyone who lives on milk is unskilled in the word of righteousness, since he is a child. 14 But solid food is for the mature, for those who have their powers of discernment trained by constant practice to distinguish good from evil. (Hebrews 5:11~14)
2 Do not be conformed to this world, but be transformed by the renewal of your mind, that by testing you may discern what is the will of God, what is good and acceptable and perfect. (Romans 12:2)
12 For the word of God is living and active, sharper than any two-edged sword, piercing to the division of soul and of spirit, of joints and of marrow, and discerning the thoughts and intentions of the heart. (Hebrews 4:12)
I am NOT suggesting that you, my fellow Bible Christian, are "dull of hearing". No way! The fact that you're here reading these things proves otherwise. It's just that you need information, and that's what you're getting massive doses of here. So here's another bit of hard-won wisdom for you. No extra charge for this:
EVERYTHING IS A TEST!
Wouldn't you agree: the problem we all face is this: The "test" comes to us unexpectedly, like a pie in the face. IN THAT MOMENT, our goal is to change our knee-jerk reaction from instant retaliation to obedience to God.
Now, when I talk about things like "change your knee-jerk reaction…", I'm not talking about "trying harder"! One of ways the devil always lies is by making you believe you have to do these things by your own strength.
You have the Holy Spirit in you. Allow the Holy Spirit to help you to overcome your old nature.
As someone has said:
"The Holy Spirit is the most under-employed being in the universe"
The more you choose to walk in obedience to God's ways, the more you will see that you are able to do things that you never thought you could ever do. That's the Holy Spirit doing the heavy lifting for you.
The battle takes place in our minds, and we win the battle with Scripture. The more of the Word of God you have hidden in your heart, the better equipped you are to stand firm against the devil.
You might also want to read:
How To Eliminate Unwanted Thoughts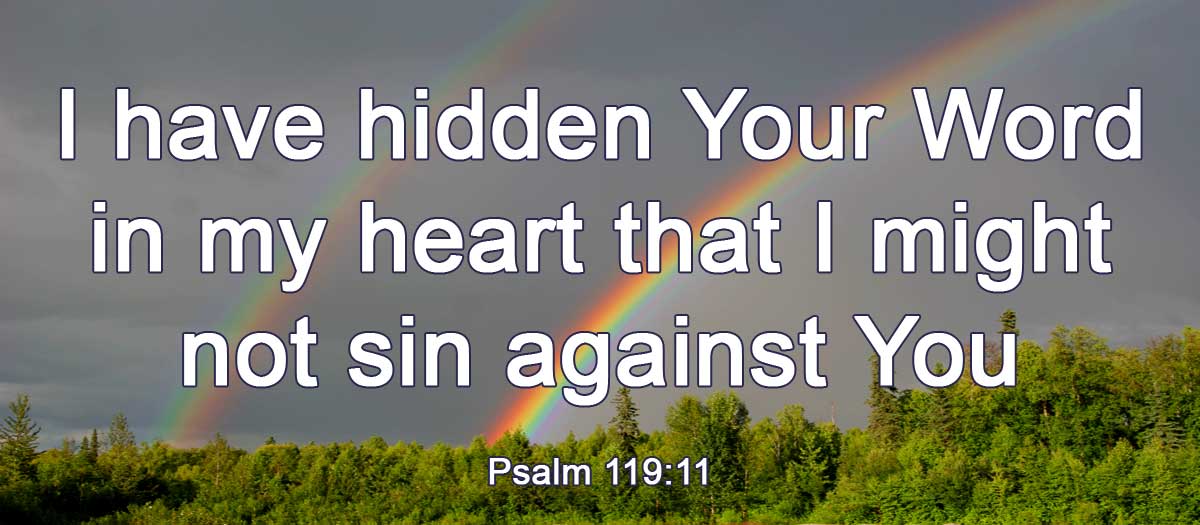 PRAYER: I praise you and I thank you, Lord Jesus, for giving me Words that shine the light of Truth on Satan's lies. Now that I know that the devil always lies, I know what the truth is: it's always the exact opposite of whatever those liars from hell are trying to get me to believe.
- Jan