God wants us to be confident in Him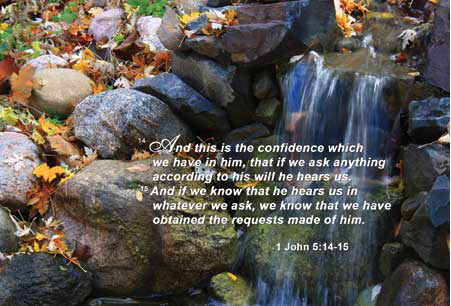 This Is The Confidence That We Have in Him.
Some have taught that Bible passages such as 1 John 5:14-15 are a guarantee that God has to give us whatever we ask for. What else could it mean, for example, when Jesus said, "If you ask anything in My Name, I will do it" (John 14:14)? Or when He said, "Whatever you ask in prayer, believe that you have received it, and it will be yours" (Mark 11:24), isn't that a guarantee?
Thinking that way ignores the fact that we must pray according to His will. To pray " in Jesus' name" means praying as He did. Jesus always in submission to the Father—even when it meant unimaginable suffering, separation from the Father and death on a cross: Father, If it is your will, take this cup away from Me; nevertheless not my will but Yours, be done (Luke 22:42) The Father alone saw the big picture. Only He was qualified to decide—then and now.
When we pray "Thy will be done on earth as it is in heaven" are we not praying in submission to God? We're trusting that He is working to bring about the best possible result. Our confidence, then, is that we are prepared to accept the outcome as being the will of God. We are trusting Him even the outcome looks different than what we might have pictured. It's about us serving God, not God serving us.
Here is another aspect of your faith to consider:
22 …And Jesus answered them, "Have faith in God. 23 Truly, I say to you, whoever says to this mountain, 'Be taken up and thrown into the sea,' and does not doubt in his heart, but believes that what he says will come to pass, it will be done for him. 24 Therefore I tell you, whatever you ask in prayer, believe that you have received it, and it will be yours. (Mark 11:22~24)
Notice that Jesus said "…and does not doubt in his heart, but believes…"
We have a free will. Just as God will not force you to DO anything, in the same way He won't force His help upon you. You have to ask Him!
But now, don't get too carried away with this.
This is not a "prosperity gospel" message. I once heart a preacher say to his congregation, "does this mean I can ask for a new car?" Then he answered his question:
"Yes!! See yourself driving it" That is SO WRONG!! Limit your requests to your genuine needs. After all:
….for your Father knows what you need before you ask him. (Matthew 6:8)
Also…
5 Keep your life free from love of money, and be content with what you have, for he has said, "I will never leave you nor forsake you." 6 So we can confidently say,
"The Lord is my helper; I will not fear; what can man do to me?" (Hebrews 13 5~6)
"Lord, make me like Job who said 'Though He slay me, yet will I trust Him" (Job 13:15) I choose to trust You. I accept Your will. You are in charge of my life.

- Jan