Jesus said, "Consider carefully how you listen…" (Luke 8:18). It's equally important to Choose Your Words Carefully.
What is in your heart will eventually come out of your mouth.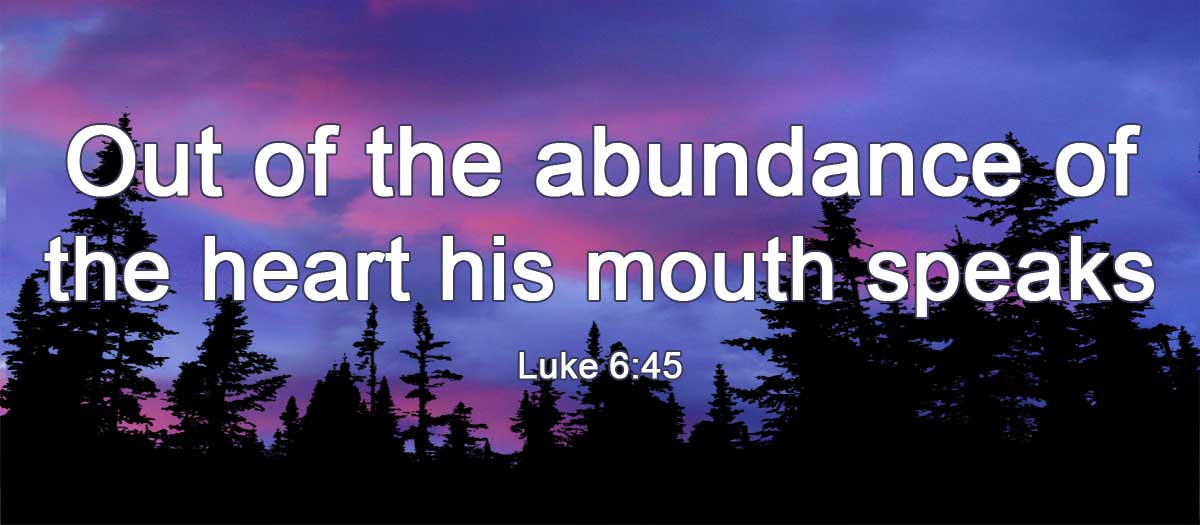 Here is the entire Scripture passage:
45 The good person out of the good treasure of his heart produces good, and the evil person out of his evil treasure produces evil, for out of the abundance of the heart his mouth speaks. (Luke 6:45)
The devil uses our words against us!
There seems to be agreement among those who teach the Word of God that the devil cannot read the thoughts in our minds.
One teacher wryly observed that the devil doesn't have to read our thoughts because he put most of them in there.
However, although the enemy may not know what we are thinking, he can hear what we say, read what we write, and observe what we do.
Our negative words and actions give the devil a legal standing in the court of heaven to use our own words and actions against us. That's why you should Choose Your Words Carefully.
26 Be angry and do not sin; do not let the sun go down on your anger, 27 and give no opportunity to the devil. (Ephesians 4:26-27)
What You Say Can And Will Be Used Against You!
That's true in human courts of law, and it's also true as our accuser attempts to get a ruling against us in the court of Heaven.
As we know, Satan and his demons burn with hatred for Jesus. But, much to their dismay, Jesus defeated them and purchased our salvation by taking human form and sacrificing Himself as full payment for the sins of all who choose to follow Him.
Because Jesus loves us that much, the demons in hell hate us. They can't touch Jesus, so they do the only other thing they can do: try to destroy those whom Jesus loves. THAT'S US!
Fortunately for us, God has restrained these fallen angels from killing us all instantly. But, because God has given each of us a free will, He cannot stop us from choosing to reject Him. That's what most people do.
One common way in which we all fail to follow the model Jesus gave us is by saying and doing things that give "opportunity to the devil" to attack us.
Choose Your Words Carefully
Here are just a few examples of things not to speak or write or do, followed by a more biblical response.
Do you ever say, when someone has a cold or the flu, "Oh, I'm sure I'll catch it. I always seem to catch what someone else has." By saying something like that, you could be giving the devil an opening to go before God and demand the right to infest you, because you as much as invited it upon yourself.

Instead speak words of faith: "Father, how grateful and blessed I am! Because I know that, according to Psalm 91, You will protect me from 'deadly pestilence' and 'no plague shall come near my tent (my body)'".

I remember seeing many times a slogan thumb-tacked to the partition in the office cubicles of various people, which read: "I always dreamed of making the salary I'm now starving on." This negative attitude could be giving the devil an opportunity to attack their finances.

Instead choose on an attitude that says, "I praise You, Lord, because every genuine need of mine is met. Indeed, by the standards of the world, I am in the top 3 percent! Thank you God for supplying every need according to your riches in glory."

Do you put yourself down? Saying things such as, "I'm such a klutz"; "I'm so stupid"; "I can't do anything right"; etc.

Instead, if you just did something klutzy, realize that the devil is right there watching for you to give him an opening. Say to him, "Did you enjoy watching me do that just now? Well, that's all the satisfaction you're going to get from me. I won't make that mistake again." Then give praise to God and ask Him to help you guard against such mistakes in the future. And if you should happen to make the same stupid mistake, don't give any satisfaction to the devil by dwelling on your failure. In fact, every time the devil reminds you of your past, you remind him of his future!

Do you do this? I used to know a man who, when something would confuse him, would say, "Oh, my brain just isn't working right today!". That's not walking in agreement with God. Again, it could be opening the door for the devil.

Instead, he might have said, "I'm not sure I follow you on this. Help me to understand it better."
If you're always putting yourself or others down; if you go around with a chip on your shoulder; if you are one of those for whom the proverbial glass is always half empty (or completely empty); If you deem it your role to critique and bash every imperfection in the world around you; as far as the devil is concerned, you have a "Kick Me" sign on your back!
God is in control; the devil has to seek permission.
Simon, Simon, behold, Satan demanded to have you, that he might sift you like wheat" (Luke 22:31)
It would seem that, somehow, Satan has access to God in heaven. You can see a glimpse of their interaction in following excerpt from Chapter 1 of the book of Job:
Satan Attacks Job's Character

6 Now there was a day when the sons of God came to present themselves before the Lord, and Satan also came among them. 7 And the Lord said to Satan, "From where do you come?"

So Satan answered the Lord and said, "From going to and fro on the earth, and from walking back and forth on it."

8 Then the Lord said to Satan, "Have you considered My servant Job, that there is none like him on the earth, a blameless and upright man, one who fears God and shuns evil?"

9 So Satan answered the Lord and said, "Does Job fear God for nothing? 10 Have You not made a hedge around him, around his household, and around all that he has on every side? You have blessed the work of his hands, and his possessions have increased in the land. 11 But now, stretch out Your hand and touch all that he has, and he will surely curse You to Your face!"

12 And the Lord said to Satan, "Behold, all that he has is in your power; only do not lay a hand on his person."

So Satan went out from the presence of the Lord.
(Job 1:6-12)
Thus the enemy tempts us, entices us, lures us, waiting and watching for us to go for the bait. When we do, just like a sleazy shyster lawyer, he goes before God and accuses us in an attempt to gain permission to inflict misery upon us.
And I heard a loud voice in heaven, saying, "Now the salvation and the power and the kingdom of our God and the authority of his Christ have come, for the accuser of our brothers has been thrown down, who accuses them day and night before our God.(Revelation 12:10)
Then he showed me Joshua the high priest standing before the angel of the Lord, and Satan standing at his right hand to accuse him. (Zechariah 3:1)
Can you see from that how relentless Satan and his demons are in their zeal to attack us and bring us down? They consider everything we say and do, hoping to find evidence against us.
This is definitely a supernatural problem.
And supernatural problems require supernatural solutions. We cannot combat Satan and his demons on our own. We need God's supernatural help.
But here's the thing…
As with most spiritual issues, It's up to us to choose to partner with God. There is a part that we must do first, before God will do the part that only He can do. We have to know the ways of the enemy, and equip ourselves with the "Sword of the Spirit, the Word of God."
Knowing the enemy takes study and practice. You could read about or hear about how to play the guitar. But that's just the first step. In order to actually do it, you have to practice.
In the same way, if you want to be victorious in these spiritual matters, you have to commit yourself to it.
I'm here to help!
I've written many articles that deal with spiritual warfare, and how to defeat the devil. There's a list of them near the top of the sidebar at right.
---
Also, I highly recommend the book described directly below.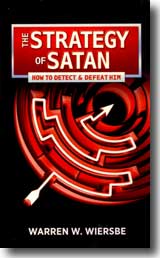 The Strategy Of Satan
Bible teacher, author, and conference speaker Warren W. Wiersbe1 has published more than 150 books. In "The Strategy Of Satan" he gives us detailed insight into how to know and defeat our adversary. Just reading a portion of the table of contents is enlightening:
Chapter One THE DECEIVER

1.1 Satan's Target – Your Mind
1.2 Satan's Weapon – Lies
1.3 Satan's Purpose – To Make You Ignorant of God's Will
1.4 Your Defense –The Inspired Word of God

Chapter Two THE DESTROYER

2.1 Satan's Target – Your Body
2.2 Satan's Weapon – Suffering
2.3 Satan's Purpose – To Make You Impatient with God's Will
2.4 Your Defense – The Imparted Grace of God

Chapter Three THE RULER

3.1 Satan's Target – Your Will
3.2 Satan's Weapon – Pride
3.3 Satan's Purpose –To Make You Independent of God's Will
3.4 Your Defense – The Indwelling Spirit of God
---
Here are some of the Scriptures I found that caution us about what we say
If anyone thinks he is religious and does not bridle his tongue but deceives his heart, this person's religion is worthless. (James 1:26)
but no human being can tame the tongue. It is a restless evil, full of deadly poison. (James 3:8)
For "Whoever desires to love life and see good days, let him keep his tongue from evil and his lips from speaking deceit;" (1 Peter 3:10 – quoting from Psalm 34:12~14)
The devil knows those Scriptures. He knows how difficult it is for us to control what we say, and like the bully that he is, he seeks to exploit our weakness.
But we have the ultimate weapon: the power of the word of god.
May you be strengthened with all power, according to His glorious might, for all patience and longsuffering with joy. (Colossians 1:11)

9 But he said to me, "My grace is sufficient for you, for my power is made perfect in weakness." Therefore I will boast all the more gladly of my weaknesses, so that the power of Christ may rest upon me. 10 For the sake of Christ, then, I am content with weaknesses, insults, hardships, persecutions, and calamities. For when I am weak, then I am strong. (2 Corinthians 12:9)
So Here's My Plan:
16 All Scripture is inspired by God and profitable for teaching, for reproof, for correction, for training in righteousness; 17 so that the man of God may be adequate, equipped for every good work. (2 Timothy 3:16~17)
19 Know this, my beloved brothers: let every person be quick to hear, slow to speak, slow to anger; 20 for the anger of man does not produce the righteousness of God. (James 1:19~20)
quick to hear – God's point of view
slow to speak – MY point of view
slow to anger – When my point of view differs from Gods.
The more Scripture I know, the more God is able to use it to teach me, reprove me, correct me, and train me in regard to my own behavior. So, instead of giving "opportunity to the devil", I'm giving "permission to God"!
Good plan, yes?
- Jan
FOOTNOTES
Warren W. Wiersbe is a Bible teacher, author, and conference speaker.
You can purchase "The Strategy Of Satan" at:
Amazon.com
Christianbook.com
The cover design shown above is a special design for Turning Point Ministries. Copies of "The Strategy Of Satan" purchased online have a different cover design.
---