Jan Smith – 01/24/2008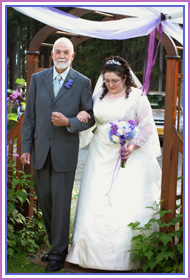 In a previous blog entry, I said I wanted to share some of the Biblical principles I have learned, and the accompanying notes I've written in the margins of my Bible. Here's one that is very special to me because it involves my own family.
On July 20, 2007, it was my delight to walk my daughter, Jennifer, down the isle and give her away in marriage. She had met a man named Christoph Catalone from Fairbanks, Alaska. (I love the way Jenni explained how to pronounce her new last name: "It's 'CAT-alone', as in 'leave my cat alone!'")
The wedding took place in the front yard of Christoph's uncle and aunt, Sam and Mary Demientieff. Our whole family was on hand in Fairbanks to help Jenni celebrate the moment. (More photos: click here.)
I wanted to share with you a blessing I prayed over Jennifer and Christoph during the reception. The blessing was part Scripture and part notes written by me.
I naturally took my Bible along on our trip to Alaska. So of course, on the morning of Jenni's wedding, I spent a little time looking for a Word to share at the appropriate moment. I believe God was with me and directing me as brought to my mind a wedding Joanne and I attended where the pastor preached his sermon around this passage of Scripture from Ecclesiastes :
"9 Two are better than one, because they have a good reward for their toil. 10 For if they fall, one will lift up his fellow… 11 Again, if two lie together, they are warm; but how can one be warm alone? 12 And though a man might prevail against one who is alone, two will withstand him. A threefold cord is not quickly broken." (Ecclesiastes 4:9-12)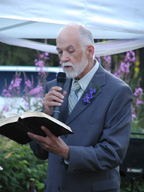 I remembered his teaching about how the "threefold cord" refers to a husband, wife, and Jesus Christ. So here's the note I wrote in the margin of my Bible, on the morning of the day our daughter was married:
"07/20/2007 – Today, my little girl — Jennifer Marie Smith — will marry Christoph Catalone. It is my prayer for them that their threefold cord — husband, wife, and Jesus Christ — will never be broken."
Joanne and I have found that this principle — keeping Christ at the center of our marriage by focusing on Him and releasing our problems to Him — works. In the past we've quarreled about many things. But as we've learned to remember to keep God at the center of our marriage by spending time in our Bibles, discussing what God is doing in our lives, sharing insights, talking about how we could minister to others, etc., those other things become smaller and downright insignificant. When you focus on God, he helps you handle your problems.
The Christian life really works!
– jan