I am writing this article in October of 2020. In early September, I celebrated my 78th birthday! I would like to share some of the wisdom I have learned during those years. So, If we were sitting together, here are some of the things I would say to you.
About staying married
If you have been married more that a few weeks after your honeymoon, I think I can safely say that your marriage isn't as perfect as you thought it would be. So, if we were sitting together, here is what I would say to you:
As of August 30 of 2020, Joanne and I have been married 51 years. Through those years, we have had a lot of quarreling and bickering, often about trivial matters. So, realizing that we don't have very many years left, we have decided that, instead of fighting each other, we would chose to forgive each other. We realize that there will times when each of us will fail to live up to that choice. Because we also realize that "divide and conquer" is one of Satan's favorite tactics to destroy a marriage. Look at the divorce rate, even among Christians. We declare that we will not let the enemy win!! We urge you to do the same. Choose to forgive and stop the petty bickering. Do not let the enemy destroy your marriage!!
About using credit cards:
Credit cards are like a narcotic: the more you use a credit card, the more you want to use it. Often, people have many credit cards. Thus the borrower becomes the slave of the lender. Soon you will be buried under a mountain of credit card debt. Don't do that to yourself. We cut up all of our credit cards 15 or 20 years ago. It's been so long ago, I can't remember when it was. Today, we have no credit card debt.
About buying a car:
Joanne and I have never bought a new car or truck or van or SUV. We have always bought used vehicles.
In 1996, we bought a Dodge caravan that was built in 1990. The van was 6 years old when we bought it. We drove it until the summer of 2018. In 2 more years it would have been 30 years old. The repairs that the van needed would have cost more than it was worth, so we sold it for scrap. So, that's what I would say about buying a car.
About buying a house:
In 1973, we bought a house that was built in 1953. Our home was about 30 years old when we bought it. In 1983, we had 4 children So, we transformed what was an attic into 2 bedrooms, a full bathroom, and 4 closets along the hall from the top of the stairs to the largest bedroom. Our house has only 1 garage stall. But in 1994, I had a company that makes concrete driveways pour a concrete driveway 3 lanes wide. Our home is old, and has a few issues, but we keep it in good condition.
Now, here is what many home owners would not be satisfied with. Our kitchen has no appliance for washing the dishes. So, here is how I turn adversity into advantage. I am the designated dish washer. But instead of grumbling, I put on headphones and listen to Bible teaching streamed over the internet. Some of the major ministries have an app for their smart phone that I can listen to while my hands are in soapy dishwater. Probably hundreds of hours.
About Distractions:
Oh, where to begin? Television, Email, Facebook, Test messaging, Sports, and countless other distractions designed to keep us from fulfilling the real purpose that God created us for. None of those things are bad, but we have to put limits on them.
About your family:
Not everyone reading this has a family and children, but if you do, make spending time with your children a high priority. They grow up so fast, and are out in the world so soon… When I was in a software user group that met in the evening, I always made sure I was home in time to read to my children, pray with them, and tuck them into bed. There were times, when I was self-employed and was at home in the morning, I would cook things like scrambled eggs, toast, and pour orange juice for them. Often, we would eat together. I have never regretted even one moment of time that I invested in my relationship with my children.
Get our of your comfort zone!!
On July 4, 2020 a Perkins restaurant offered a free meal to veterans. I am an army veteran, so Joanne and I went to a nearby Perkins restaurant. When the server came to take our order, we made our choices from the menu. She returned to make sure everything was prepared properly, did we need more water? Did we want to order from the desert menu?
Here's the thing: there was 1 other customer in the restaurant. Because of my free meal, our bill was $12.00. 10% would have been $1.20. I couldn't bring myself to do that. Instead, I put a $20.00 tip on the tab at the checkout counter. The lady behind the counter was astonished. Then I got out of my comfort zone and said to her, "as a disciple of my Lord and Savior Jesus Christ, I'm taught to be generous". She said, "I am a Christian, but I haven't been attending a church service for a while. I haven't taken time to find a church to attend". So I said "the church Joanne and I have been attending would love to see you there. I'll be sure to arrive there early enough to greet you and introduce you to the pastor and some of the people there". That's an example of what can happen when you get out of your comfort zone.
Importance of Scripture memory:
Let's let Jesus explain it:
Return of an Unclean Spirit
43 "When the unclean spirit has gone out of a person, it passes through waterless places seeking rest, but finds none. 44 Then it says, 'I will return to my house from which I came.' And when it comes, it finds the house empty, swept, and put in order. 45 Then it goes and brings with it seven other spirits more evil than itself, and they enter and dwell there, and the last state of that person is worse than the first. So also will it be with this evil generation." (Matthew 12:43~45)
Fellow Christian believers, that's happening all over the world. Jesus is saying that if you don't have His thoughts in your mind, Satan will be delighted to put his thoughts into your mind. Our only weapon against the forces of evil is the Word of God. Without any Bible wisdom in your mind, you might as well have a "torment me" sign on your back. You might as well have a neon sign saying "vacancy, demons welcome here!!" You are like a civilian shoved into the heat of a raging battle without a weapon.
The reason many people say that they aren't doing any Scripture memory is that they don't have time to do it. I understand you mean, but you're not saying it properly. What you're really saying is that everything else has a higher priority, and making time for Scripture memory has no priority at all.
Standing Against Anarchy!!
Here's an example of what happens when people are not living by principles from the Bible. This pile of rubble used to be an Autozone
auto parts store: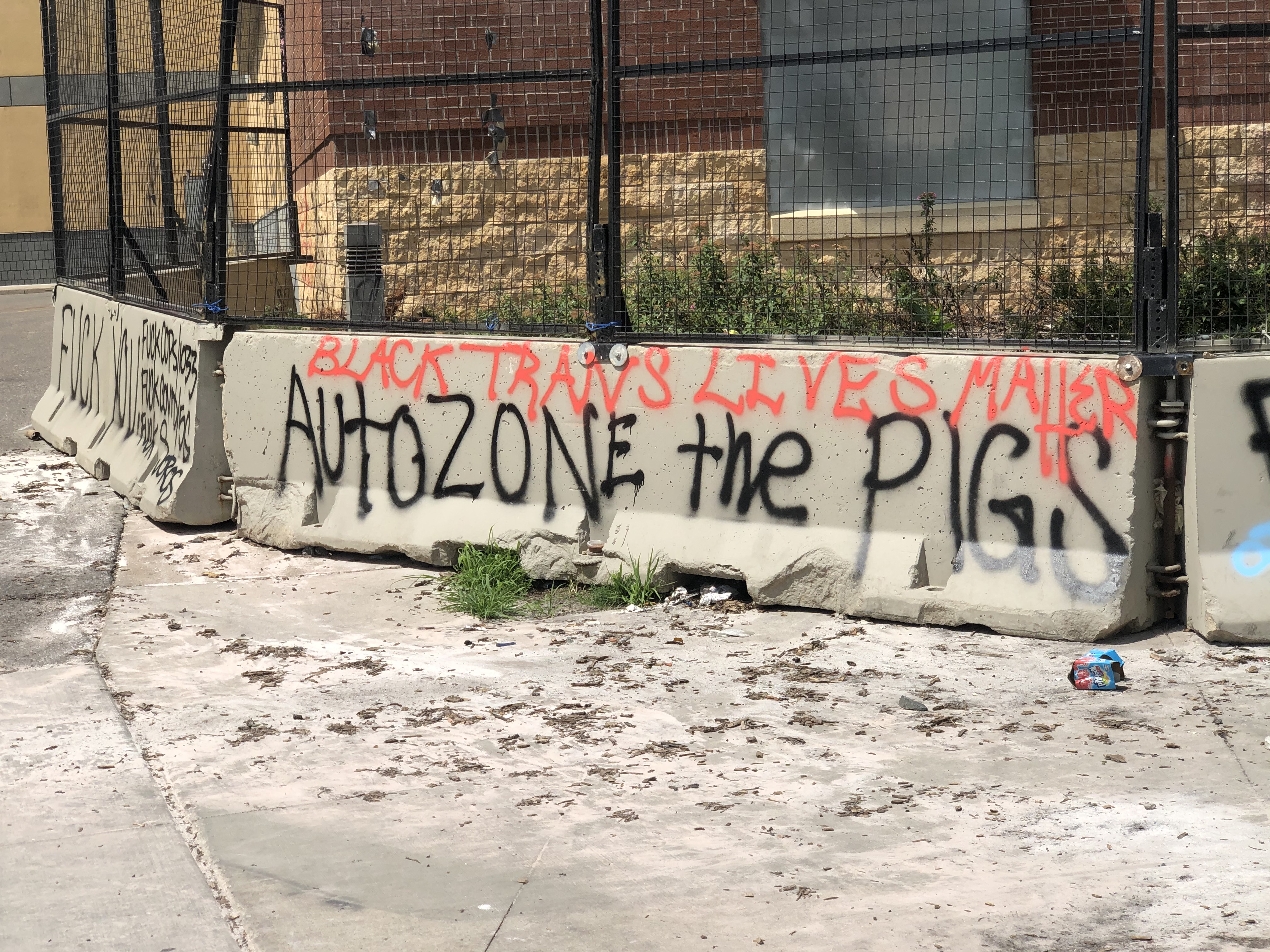 I think I can safely say without fear of contradiction that the people who did these things are not getting out of bed in the morning and getting on their knees praying to God!
Some closing thoughts:
People, have the proper perspective on life. Be content with what you have. Examples: Aren't you glad that we don't have to go out and gather sticks and twigs and build a fire and cook our food on? We have natural gas or electric stoves to cook our food on. We have refrigerators to keep food from spoiling before we eat it. When the weather is cold, we turn on the furnace in our basement. When the weather is hot, we turn on the air conditioner. When the sun sets and darkness falls, we don't have to light candles. We just flip a switch, and electric lights come on.
A final example: Solomon, the richest man who ever lived, did not have even 1 flush toilet. Our home has 3 of them. Depends on your point of view, doesn't it.

- Jan
Hey, before you go, I would love to know your thoughts on how these bits of wisdom seem to you. Write a comment below. Thanks!