Jesus wants You To Be Strengthened With All Power.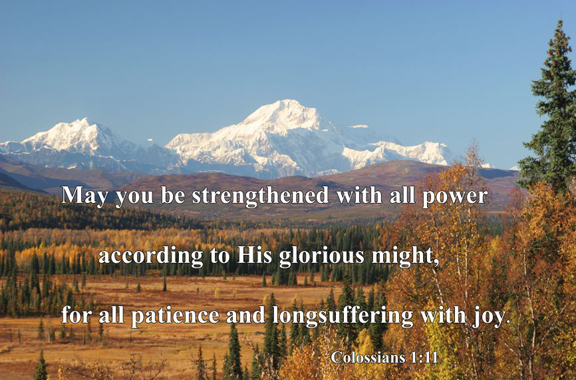 This is not about some kind of "Christian-doormat / suffering-servant / woe-is me / pitiful-existence" kind of life. This is about reality. And the reality is that life comes with a succession of difficult situations and obnoxious people. But good news for followers of Jesus: He's offering His power to you—His strength to overcome.
Patience will give you strength to remain under difficult circumstances. You won't give up on God, you won't quit your circumstances, and you won't lose your joy as you see how God is with you, protecting you through it. You will be able to endure.
But sometimes, the difficulty is not the situation, it's the people. Where the words or actions of others would normally provoke you to anger, you need to be "strengthened with all power according to His glorious might for longsuffering with joy"
Longsuffering—remaining calm even the face of provocation—will give you strength to respond to difficult people in ways that honor God. Your human nature—especially under Satan's prompting—wants to retaliate and condemn It takes more that your own strength to have a quiet spirit. This is not natural; it's supernatural!
"Lord Jesus, now that I've put you in first place and made You my top priority, I understand about being strengthened. It's like driving with power steering. Every time I turn another grievance over to You, I can literally feel the power of Your Holy Spirit enabling me to persevere. Instead of despair, it fills me with joy. Thank You, Lord."
- Jan