JOY emanates from God. His supply is limitless, and it flows freely to those who know Him.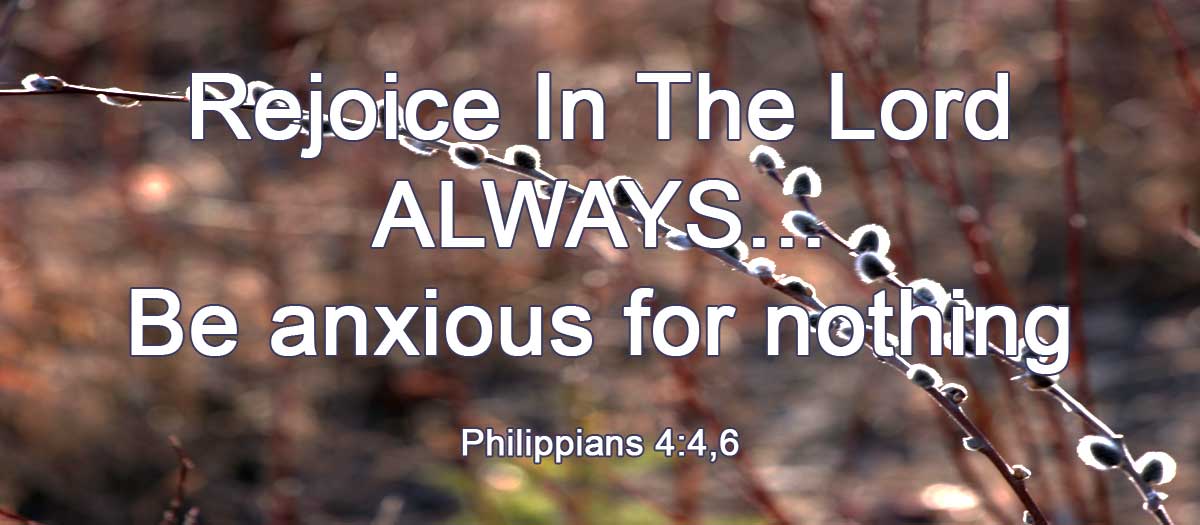 4 Rejoice in the Lord always; again I will say, rejoice. 5 Let your gentle spirit be known to all men. The Lord is at hand; 6 Be anxious for nothing, but in everything by prayer and supplication with thanksgiving let your requests be made known to God. 7 And the peace of God, which surpasses all understanding, will guard your hearts and your minds in Christ Jesus. (Philippians 4:4~7)
You can live "above your circumstances" and rejoice — when your joy is in the Lord! This is not just "Bible-speak". This truly happens.
But I know what you're thinking:
"Rejoice always? Be anxious for nothing?? Not possible!!"
But God is longing to help you rise to this level of spiritual maturity. This is living in the joy that flows from a constant awareness of your intimate relationship with God. You'll trust Him–when you know for certain who you are in Christ.
APPLICATION: How To Do It!
You have to start learning to think the way God thinks. And He's told us some things about how He thinks:
For as the heavens are higher than the earth, so are my ways higher than your ways and my thoughts than your thoughts. (Isaiah 55:9)
So ask yourself, "What would God do?" Answer: He would do the opposite of what worldly people do.
Here's how to try that. Here's a very practical application.
You've noticed the price of gasoline increasing. And how do most people respond? By complaining, and worrying about their finances. But at the root of that worry is fear–that God isn't really going to provide for their needs. And they give up their joy needlessly.
That line of thinking won't take you anywhere good. So let me suggest a radically different response: Choose to praise God instead!
You say, "WHAT?? Praise God for high fuel prices? You're crazy!!"
Not crazy; just plugged into a wonderful principle. Here's a verse that contains a principle I've chosen to live by:
Do not be conformed to this world, but be transformed by the renewal of your mind…" (Romans 12:2a)
If you just think for a moment: when people behave like the worldly society around them, is there ever a positive result? Not likely. So instead, allow God to prompt you:
But the Helper, the Holy Spirit, whom the Father will send in my name, he will teach you all things and bring to your remembrance all that I have said to you." (John 14:26)
Jesus Himself promises to bring to your conscious mind the appropriate Scriptures containing principles with which you can handle your situation. BUT: He can only do that IF you have bothered to put His Word into your heart previously. Thus the need for Scripture memory.
You cannot defend yourself with "The sword of the Spirit, the Word of God" (Ephesians 6:17) if you don't have it with you!
Let me suggest that you take the high road. Try quietly speaking the following praises the next time you go to the gas station. You won't see people who are totally plugged into the "world system" doing this:
Praise Him because fuel is available!
Praise Him because you have a car!
Praise Him for the money in your account!
Praise Him because you are healthy enough to drive!
Praise Him because you have a license to drive!
Praise Him because there are highways and bridges to drive on!
…and so on. Add your own praises to the list.
Praise Him because, no matter what you choose to name, ultimately He provided it!
Here's how this works: just as the S-T-R-A-I-N of lifting heavy weights strengthens your muscles, God uses the S-T-R-A-I-N of adversity to strengthen your faith in Him.
His purpose is to make you more like Jesus. Thus, trials are merely occasions to turn to Him and "rejoice in the Lord."
JOY IS IN THE LORD — HAPPINESS IS TIED TO CIRCUMSTANCES
Happiness rises and plummets according to fickle circumstances. Joy IN THE LORD is abundant and constant. And you can choose to have it!
Wouldn't you agree: you can deal with life's issues more effectively when your life shows evidence of the presence of fruits of the Spirit such as joy and peace, rather than being wracked with fear, worry, doubt, anxiety, and panic.
I mentioned two of the fruits of the Spirit, joy and peace, above. This article dealt with joy. In a future article I will show you what God has for you when you choose to live in His ways.
In all your ways acknowledge him, and he will make straight your paths." (Proverbs 3:6)
- Jan