Jesus Wants Us To Have Faith That Moves Mountains!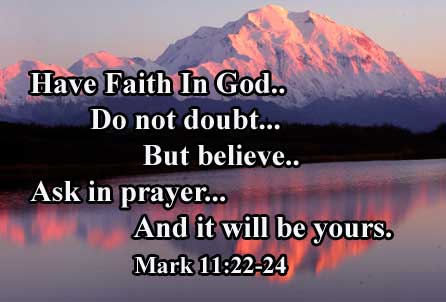 Have Faith In God… Believe That You Have Received It!
22 Jesus answered them, "have faith in God.
23 Truly, I say to you, whoever says to this mountain, 'Be taken up and thrown into the sea,' and does not doubt in his heart, but believes that what he says will come to pass, it will be done for him. 24 Therefore I tell you, whatever you ask in prayer, believe that you have received it, and it will be yours. (Mark 11:22~24)
Prayer is not us trying to overcome God's reluctance. Prayer is about bringing our needs before Him in faith… and releasing them to God. "Have faith in God… do not doubt… believe it will come to pass… believe that you have received it… forgive." It's about persevering when we see no result, and the request seems impossible. The passage implies a future outcome, one which may not resemble what we had in mind.
Ask God confidently, but within His will:
14 And this is the confidence that we have toward him, that if we ask anything according to his will he hears us. (1 John 5:14)
Jesus prayed,
"Not My will, but Yours be done" (Luke 22:42)
And do we not say in the Lord's prayer, "Thy will be done…" (Matthew 6:10,Luke 11:2)?
Trust Him and be confident—KNOW—that His will is always for the best possible outcome.
God hears your prayers. Indeed, He knows your thoughts before you do:
"Before a word is on my tongue You know it completely, O Lord" Psalm 139:4)
It's not about us informing God; it's about God forming the character of Christ in us.
"Father in Heaven, thank you for giving me the courage to step out boldly in faith by bringing my requests to You. I rejoice in knowing that You have heard my prayers, I place my life and my problems into Your Hands, and I accept Your outcome"

- Jan