You can be content, even in difficult times. It's a wonderful benefit!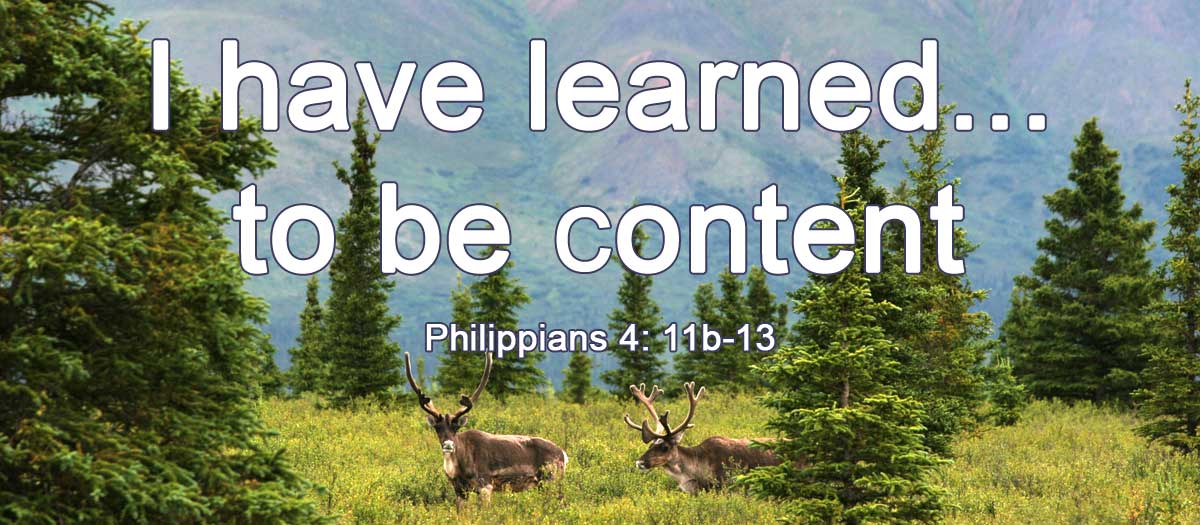 Here is the entire Scripture passage:
11b…for I have learned in whatever situation I am to be content. 12 I know how to be brought low, and I know how to abound. In any and every circumstance, I have learned the secret of facing plenty and hunger, abundance and need. 13 I can do all things through him who strengthens me. (Philippians 4:11b~13)
Being Content Does Not Come Naturally. It Must Be Learned
To be content is a virtue that does not come naturally. But it can be learned. If Paul could write about contentment from a prison cell, who of us cannot learn contentment in the affairs of our lives? But we must choose it, and then God promises to help us.
But if that's truly your goal, you doom yourself to failure! You can never succeed, because you cannot possibly reach the goal. Like a mirage shimmering on the horizon in the desert heat, the goal of "more" will always remain an illusion in front of you always beyond your reach. It's like a treadmill that wears you out — and takes yous nowhere.
By embracing the priorities of the world system — the system controlled by Satan and his demons — we give others far too much power to control our lives.
Only one opinion really matters: what does God think of our priorities?
As true followers of Jesus, we must continually filter our priorities by asking ourselves, "Does this honor God? In light of eternity, does this really matter?"
In the book of Hebrews He says,
Let your conduct be without covetousness; be content with such things as you have. For He Himself has said, "I will never leave you nor forsake you." (Hebrews 13:5)
This is something you can do.
For most of us, it takes some adjustments in attitude and priorities. (At least, that was true for me.) But as you do more and more Scripture memory, you give the Holy Spirit more material to work with, and He begins the process of changing you from the inside out. When you become aware that this is happening in your life, do all you can to cooperate with Him.
- Jan