Jan Smith – 02/27/2008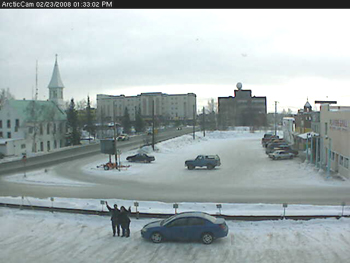 The telephone rang the other day. I answered and, much to my delight, my daughter Jenni was calling from Fairbanks, Alaska. (I should mention that Joanne and I live in Minnesota.)
Jenni said they were on the way to a store, and realized their route would take them right past the Fairbanks Daily News-Miner building. That building has a web cam on it, and she knows we like to view it frequently. She offered to pull into their parking lot and wave to me.
This was such fun! I sat down at the computer, and quickly brought up the web page. I recognized Jenni's car, but it was way off to the left side of the picture. I instructed them to back up about 15 feet. When I refreshed the screen, the car was centered near the bottom of the image.
It was cold, so they didn't get out of the car until they knew I would be able to see them. But then, how delightful it was to see my daughter and son-in-law, live, on my computer screen, from nearly 3500 miles away!
I had them step to their right a few paces. They waved as I refreshed the screen, and at the speed of light the image you see here (the actual image was larger) appeared on my computer screen.
Even though I know a little about how some of this technology works (I've been programming computers since the 1980's), I still have a sense of awe toward this and so many things we could easily take for granted. I have a degree in aerospace engineering, and I used to be a flight instructor, but I'm still in awe that airplanes can fly! Same with things like electricity.
As I step into the shower after working out each morning, it's often occurred to me that king Solomon – the richest man who ever lived – didn't have the luxury of heated water, faucets, pipes, drains, etc. I am so blessed.
Years ago, I had a little Cessna 140 airplane. I can remember looking down from a couple thousand feet and wondering what military generals from centuries ago would have given to have the view I had.
I've prayed to God that, no matter how much abundance He chooses to lavish upon me in the future, I never want to lose that sense of wonder at things which we all could so easily dismiss as commonplace. God has provided for us in ways people of earlier times couldn't have imagined.
Things like being able to hear my daughter's voice and see her wave to me from 3500 miles away.
"Command those who are rich in this present age not to be haughty, nor to trust in uncertain riches but in the living God, who gives us richly all things to enjoy." (1 Timothy 6:17)
jan