Jan Smith – 01/01/2008
On New Years day, Joanne and I visited my mom. She turned 97 years old on December 3rd. She is in poor health, living in a nursing home in Aurora, MN.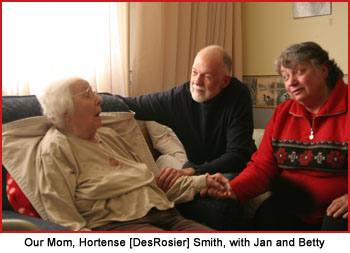 My youngest sister, Betty, was there with her husband, Terry.
Mom is suffering from quite advanced dementia. She probably didn't know for certain who I was.
Betty, who lives the better part of an hour away (that's when the roads are not snow-bound), goes to the nursing home to visit mom every day! In spite of having done that for over a year, Betty believes that now mom doesn't know who Betty is; to mom Betty is probably just some nice person who comes to see her and help take care of her.
But here's the deal: in early December, Betty called to say that mom had pneumonia. The staff at the nursing home, who see this frequently, said she likely wouldn't live more than 3 weeks at the most. That was about 5 weeks ago.
Mom keeps on keeping on. She sleeps most of the day, but she is reasonably comfortable. (I mean, at 97 you just naturally have a few aches and pains.)
I felt a combination of sadness and joy when it was time to leave. That was very likely the last time I will see her alive. My sadness was for things that were, but will never be again. I will never again taste one of her pineapple-raisin cookies. I can no longer ask her advice. She will not knit another sweater for me. And so on.
But my joy for my mom is impossible to suppress. I know where she's going. She knows Jesus as her Savior and Lord. So very soon she will have a new body, without pain; with eyes that see clearly; she will never die again – she will outlive the stars! She will be where everything is always new and perfect, and she will have eternal fellowship with the Creator of the universe. How could I be sad when that is about to happen to her.
I remember so vividly how mom would sing as she did here chores around the house. Day after day, she always seemed to approach life with a song. Now I recognize that as an example of what Paul wrote in his letter to the Colossians: " And whatever you do, do it heartily, as to the Lord". What a great example of how to live one's faith.
Thanks for all the things you did for me, mom. I dedicate this first-ever blog entry to you.
Love, jan