Jan Smith – 07/10/2008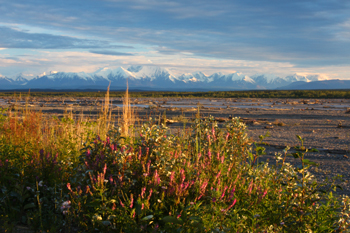 I'm sitting in an RV parked at Eagle's Rest in Valdez, eating fresh halibut for lunch while editing photos and writing this. Joanne shot this photo of the mountains from a vantage point at Delta Junction after 11:00 PM Sunday evening.
The weather went from hot and sunny in Fairbanks to cold and wet as we drove down to Valdez. Because we like to photograph everything, it took us from Sunday afternoon until Tuesday evening to get here. But with scenery like this, who could blame us?
We saw this waterfall just a few miles from Valdez. It's right at the side of the road. I wonder if the people who built the roads got a chance to stop and admire the beauty of the areas where they were building the roads.
Yesterday (July 9), we met up with a friend of mine from high school days who took us out on the ocean for the day. He and his wife and 2 friends of theirs fished, while Joanne and I documented the day with our cameras. Here's a photo of my friend Don (left, straining to hold the rod) and his two friends getting ready to land a 50 pound halibut.
While we were on the boat, we saw humpback whales, orca whales (also known as killer whales because they will eat anything), porpoises, sea lions, and puffins. Don and the others caught their limit of halibut, and we had some for dinner last night. Fresh halibut is delicious. They would have given us more, but we have no way to preserve it until we get back to Fairbanks next week.
From here, we're going to Anchorage, then down the Seward Highway and to the Kenai Peninsula. We'll go up the Parks highway from there (always stopping for photos) and work our way north. What a state!
Another "first" for me this week was paying $111 and change (at $5.10/gallon – virtually in sight of the trans-Alaska pipeline<s>) to fill the gas tank on the RV. I'm about to do it again. I keep reminding myself of two things: first, that God is in charge of our lives, including our finances, and second, that we don't have to pay hotel or motel fees each night.
We hope to write more and show a few more images from what for us is a great adventure. But here it is 2:00 in the afternoon, and we haven't even left for Anchorage yet!<s>
jan